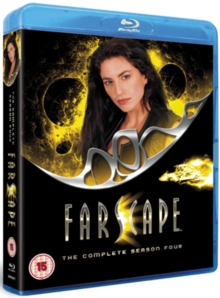 Farscape: Season 4
Blu-ray
Description
Complete fourth series of the cult sci-fi drama, following the adventures of Earth astronaut John Crichton (Ben Browder) after he is thrown millions of light years across the galaxy by a rogue wormhole.
In 'Crichton Kicks', Crichton manages to stop the Grudeks.
In 'What Was Lost (Part 1)', the crew investigate the remains of a lost civilisation.
In 'What Was Lost (Part 2)', Crichton desperately searches for the third probe.
In 'Lava's a Many Splendored Thing', Rygel gets caught in a strange orange substance.
In 'Promises', the crew return to Moya to discover that Aeryn (Claudia Black) has inexplicably given asylum to Scorpius (Wayne Pygram).
In 'Natural Election', Moya collides with a mysterious object in space.
In 'John Quixote', Crichton and Chiana (Gigi Edgley) become trapped in a virtual reality game.
In 'I Shrink Therefore I Am', bounty hunters board Moya and take the crew hostage.
In 'A Prefect Murder', Aeryn falls into a trance and murders the elected council of a hostile planet, leaving her crewmates under suspicion.
In 'Coup By Clam', the crew have to find a cure after eating toxic food.
In 'Unrealised Reality', Crichton falls through another wormhole and meets a mysterious man who warns him of the dangers of wormhole technology.
In 'Kansas', Crichton is sucked back to Earth in 1985 and discovers that he has altered the timeline.
In 'Terra Firma', Moya arrives on present day Earth, and the crew become the first aliens ever seen by the human race.
In 'Twice Shy', Chiana insists that Moya takes on a new passenger.
In 'Mental as Anything', Scorpius signs the crew up for a ruthless training camp.
In 'Bringing Home the Beacon', the crew find out about a sinister meeting between the Scarrans and the Peacekeepers.
In 'A Constellation of Doubt', Crichton broods over videos of his lost family.
In 'Prayer', Aeryn is captured and tortured on a Scarran ship.
In 'We're So Screwed (Part 1)', Moya intercepts the Scarran vessel holding Aeryn.
In 'We're So Screwed (Part 2)', Crichton attempts to sabotage the peace talks between the Scarrans and the Peacekeepers with a nuclear bomb.
In 'We're So Screwed (Part 3)', Crichton adopts desperate measures after his bomb is disarmed.
Finally, in 'Bad Timing', Crichton collapses the wormhole leading to Earth as the Scarrans attempt to travel back in time to collect the Crystherium flowers.
Information
Format: Blu-ray
Region: A,B,C
Certification: (15)
EAN: 5055298060712
Catalogue number: GOHCBD6071
Studio: History
Release date: 08/10/2012
Genre: Action/Adventure
Colour: Colour
Free Home Delivery
on all orders
Pick up orders
from local bookshops