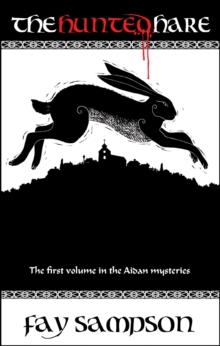 The Hunted Hare
Paperback
Description
Pennant Melangell lies at the head of a mountain valley in North Wales.
It consists of a church, with the medieval shrine and pilgrimage site of St Melangell, a few cottages - and a newly constructed hotel, the House of the Hare, built by its imposing director Thaddeus Brown. To the House of the Hare come Aidan and Jenny Davison, with their seven-year-old daughter Melangell. Jenny has advanced cancer: will the sacred location become a place of healing? Or will the hotel's new facilities - for instance, its impressive archery range - become a place of death?
In this secluded setting, who might be the victim? The first of a series of new mysteries featuring Aidan and Melangell and set in what Fay Sampson describes as the "thin" places of the Celtic world.
Information
Format: Paperback
Pages: 256 pages
Publisher: Lion Hudson Plc
Publication Date: 22/06/2012
Category: Crime & mystery
ISBN: 9780857212047
Free Home Delivery
on all orders
Pick up orders
from local bookshops
Reviews
Showing 1 - 5 of 16 reviews.
Previous | Next
Review by TheLoopyLibrarian
16/06/2015
The Hunted Hare by Fay Sampson is the first volume in the Aiden mysteries. It is set in the mountains of Wales and explores Celtic history and folklore. It is also a murder mystery with an interesting cast of characters all of whom are potential suspects. It is cozy mystery with just enough tension and suspense to keep the reader engaged. Readers who like puzzles will particularly like this book. Book clubs might enjoy discussing pilgrimages, Celtic history, and sacred places. My favorite words were hoary, taxol, and crozier. An interesting question to discuss would be whether or not the reader believes in supernatural healing or has ever had an experience with it? I enjoyed the read, and would recommend it for anyone who likes Father Dowling mysteries or Agatha Christie.In accordance with FTC guidelines, please note that I received a free review copy of this book from Kregel Publications in exchange for an honest review.
Review by csayban
16/06/2015
4.0 stars – RecommendedJenny Davison is fighting a losing battle with cancer, but she wants to live out what little life she may have with her husband Aidan and seven-year-old daughter Melangell. So when they journey to a newly constructed hotel in a hidden part of North Wales to find peace and healing, they have no idea they are stepping into the middle of a fierce battle over the future of the area that will lead to murder. Soon the Davison family isn't just trying to solve a crime; they are fighting for their very lives in one of the "thin" places of the Celtic world.Fay Sampson made a name for herself first as a children's book writer and then with her Morgan Le Fay series of novels. The Hunted Hare is the first installment of her new mystery series featuring Aidan Davison and his precocious daughter Melangell. Sampson does a nice job bringing her characters to life – especially the loving but strained relationship between Aidan and Jenny as she is quickly reaching the end of her battle with cancer. The struggle to maintain a 'normal' family life for their young daughter was written so well, that you want that miracle to come true as bad as they do. But Sampson doesn't stop there. All of her characters come to life with their manifest quirks and attitudes, propelling the story along. I was absorbed by the entire world Sampson painted and couldn't put it down.The plot of The Hunted Hare was very well done. Right up until the final scene, I wasn't sure who was involved in the crimes and who wasn't. There were several red herrings put to good use by Sampson. Characters who you thought were one thing turned out to be something else – and it actually worked. Nothing felt contrived or far-fetched. The entire story worked seamlessly to carry us to a satisfying conclusion. Sampson's writing was also quite enjoyable. If you are looking for a story with lavish prose and lengthy exposition, this isn't going to meet your needs. This is straight-ahead storytelling based on character and plot with little in the way of sidebars or atmosphere.I really enjoyed The Hunted Hare. I had not read any of Sampson's writing prior to this, but I am really looking forward to the next installment of this series when it comes out. I might even have to give some of her other works a try. The Hunted Hare is a well-written, enjoyable mystery.
Review by Sarah_Bailey
16/06/2015
This is one of those books that I really, really wanted to enjoy and I did but I didn't. Yes that is probably confusing! I really love books that delve into ancient church history, medieval history and of course some suspense and mystery! This book had it all – and regardless of your view on Saints (I believe if we are all Saved through Christ then we are all Saints, but I digress) this book is great for those who enjoy a mystery as well as some history. I really could feel Jenny's pain as she travels with her husband and young daughter on what is going to be their last family vacation.My issues with the book came with some curse words as well as Jenny and Aidan calling their daughter, "a little horror", now this could be the American equivalent of "brat" but I don't like that term either and horror sounds much worse. The only reason why I kept reading it was because the history in the book was fascinating as was the plot – I could have done without the cussing, even though it came from characters who weren't Believers (and I know there are Believers who feel it is okay to use that language) and the use of horror towards a little girl – who in my estimation never actually did anything 'bad'.Besides these concerns I did enjoy the book could I recommend it to some of my friends? No. Could I recommend it to others? Yes. It comes down to what each our convictions are – some wouldn't mind the use of "hell" and others in the context they were used, while others would be offended – as I was. If I had to give it a star rating with 5 being excellent – I'd give it a 3.5 however it'd get a 5 if the cussing and reference to the little girl weren't in it. Again, I enjoyed it but it's definitely meant for an adult and one who is mature in their Christian walk.**Disclaimer: I was given a copy of this book from Kregel in exchange for my honest opinion, no other compensation was given
Review by aztwinmom
16/06/2015
I enjoyed this book very much. The characters, the setting, the mystery were all first-rate. I loved the setting in Wales and the Celtic history. I enjoyed getting to know the Davisons....the mother's terminal cancer was handled exceptionally well...not playing for sympathy, but showing a strong woman facing death with faith and acceptance, though with moments of vulnerability. I definitely will be looking forward to reading the next story in this series.
Review by KateBaxter
16/06/2015
The Davissons, a young family with a precocious 7 year old daughter, head to the small Wesh town of Pennant Melangell to rekindle fond memories and make a spiritual healing pilgrimage for Jenny Davisson, the seven year old's mother. She's facing terminal cancer and St. Melangell is her last hope. There's not much to the sleepy village but an ancient pilgrimage church dedicated to Saint Melangell and new lodgings for the pilgrims. Needless to say, danger is afoot and a messy murder plays out requiring astute sleuthing of the key characters. A most pleasant read with a bit of ancient church spiritualism. A cozy and charming book for the winter doldrums.