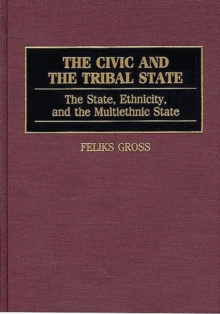 The Civic and the Tribal State : The State, Ethnicity, and the Multiethnic State
Hardback
Description
The primordial bonds of early societies-common ancestry or tribal bonds and territorial or neighborhood bonds-are at the root of early political organization.
States based on common tribal or ethnic identity have tended to develop into highly nationalistic states.
The civic state, based upon territory, appeared in embryonic form in Athens.
It was Rome, however, that made the complete transition, creating a civic state based on an association of free citizens, irrespective of ethnicity. The tribal state in its extreme, often totalitarian, form has led to genocide, holocausts, and ethnic cleansing.
The civic or territorial state has developed into modern pluralistic, multiethnic, democratic states with equal rights for diverse groups.
This was accomplished by a historical process of separation of ethnicity from citizenship.
As Feliks Gross shows, there are many types of civic and tribal states: they do not fit into a single model, but they can be grouped into related families.
This important survey of political and social development will be of great interest to students and scholars of political sociology, ethnic studies, and political history.
Information
Format: Hardback
Pages: 232 pages
Publisher: ABC-CLIO
Publication Date: 09/12/1998
Category: Social & cultural history
ISBN: 9780313291456
Free Home Delivery
on all orders
Pick up orders
from local bookshops