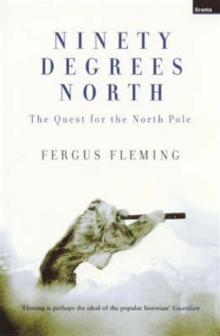 Ninety Degrees North
Paperback
Description
In the mid-19th century the North Pole was a mystery.
Some believed that it was an island of basalt in a warm crystal sea.
Explorers who tried to penetrate the real icy wastes failed or died.
But after Sir John Franklin disappeared with all his men in 1845, serious efforts began to be made to find the true Northernmost point of the globe.
Fergus Fleming's book is a vivid, witty history of the disasters that ensued.
The new explorers included Elisha Kane, a sickly man and useless commander, who led his team close to death in 1854, and Charles Hall, a printer from Ohio.
Hall made the mistake of taking an experienced crew, who refused to commit suicide for him.
Their mutiny so enraged Hall that he died of a stroke, and some of his crew escaped south on an ice-floe.
They were followed by the Germans, newly united and eager for their place in the ice, the Austro-Hungarians and the British, who in 1876 managed to get further than any other expedition, travelling over terrain later explorers considered impassable. They left the field to the Norwegians, to expeditions organized by the American tabloid press, Swedish baloonists, aristocratic Italians and finally to the obsessive Robert Peary, who on one trip took his pregnant wife with him in order to set a record for the most northerly birth in history.
He finally made it in 1909.
Information
Format: Paperback
Pages: 496 pages
Publisher: Granta Books
Publication Date: 11/10/2002
Category: General & world history
ISBN: 9781862075351
Free Home Delivery
on all orders
Pick up orders
from local bookshops
Reviews
Showing 1 - 2 of 2 reviews.
Review by miketroll
16/06/2015
A truly enthralling account of the whole era of Arctic exploration and human obsession with finding the North Pole. This book details not only the courage, hardships, endurance, vanity and stupidity of various key figures but also the political background: vacillating public interest, funding difficulties, nationalistic ambition - it's all there!
Review by john257hopper
16/06/2015
This is a wonderfully readable and colourful account of the heroic era of Arctic exploration from the mid nineteenth century until the early years of the twentieth century. It peters out after the bitter Frederick Cook v Robert Peary argument about which of them, if either, had reached the North Pole first in either 1908 or 1909 respectively. It seems clear that Cook was a fraud. Peary may well have been mistaken in his belief that he had reached it, though he almost certainly came extremely close, and the position is much more ambiguous than that of Cook. Peary was not a pleasant character, as witnessed by some of his activities towards the Eskimo community (stealing their only source of metal) and individual members of it (luring some with false promises then selling them to the Smithsonian Institution as curiosities); though, to be fair, he also inspired great devotion in many of them as well. Peary's extreme self-belief and utter conviction that he alone had the right almost physically to possess the entire Polar region, may well have distorted his judgement - the almost unbelievable speed at which he arrived there, and even more so, that at which he left makes it very difficult to believe he actually achieved 90 degrees north exactly. Before this, there was a rich cast of intrepid explorers like Fridtjof Nansen, scientists with very few leadership qualifications such as Elisha Kent Kane, amateur dreamers like the Verne-esque balloonist Salomon Andree and unscrupulous backers of expeditions such as James Gordon Bennett. There are gripping atmospheric accounts of struggling through snowdrifts and icefields, through months of darkness and battles with depression caused by the lack of light and activity during the winter and the extreme sameness of the landscape, debilitating attacks of scurvy, and frostbite leading to the loss of toes. It's marvellous stuff and a really great read. 5/5