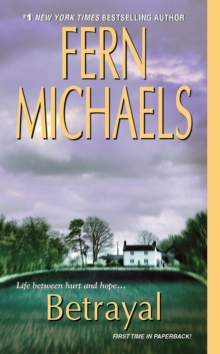 Description
Kate and Alex Rocket are blessed with a wonderful marriage and a lovely home.
Although Kate can't have children, she and Alex look upon Sara and Emily, daughters of their good friends Don and Debbie Winter, as part of their family.
With one phone call, everything changes. Sara accuses Alex of a terrible act, opening up a vicious rift between the couples.
Kate watches helplessly as her innocent husband is convicted and sent to prison.
But when even greater tragedy strikes, Kate's grief turns to anger, and she discovers an inner strength and steel-edged resolve to clear her husband's name - and ruin those who destroyed their life together.
But Kate's greatest challenge will be in avenging Alex without losing her chance at a new future - and a precious new love...
Information
Format: Paperback
Pages: 384 pages
Publisher: Kensington Publishing
Publication Date: 01/07/2011
ISBN: 9780821779545
Free Home Delivery
on all orders
Pick up orders
from local bookshops
Reviews
Showing 1 - 5 of 9 reviews.
Previous | Next
Review by CandyH
16/06/2015
A must read if you are a Fern Michaels fan. So refreshing to have her put out a book that is not the Sisterhood series or the Godmother series.
Review by Shadow123
16/06/2015
Regular fans of Fern Michaels will not be disappointed here. Her plot-driven writing is in full force - I read this entire novel in one day, trying to find out if my predictions about what would happen next would come true. The unfortunate part is that, due to the rather low quality of the writing, my predictions usually did come true - this is what happens when you have a book filled with one-dimensional characters and absurd storylines and ridiculous plot twists that could have come from any daytime soap opera. However, this is what Fern Michaels does best. If you're looking for art or high literature, don't come here. But if you're looking for a remarkable beach read, something you don't have to think about but might want to discuss with your husband later, then this is the book for you.
Review by amcreech
16/06/2015
Kate and Alex have the perfect marriage with one exception, they are not able to have children. As a result they treat Alex's best friend's girls as their daughters. After a 2 week visit with Kate and Alex, the youngest girl Sara accuses Alex of molesting her. Alex and Kate must go through the awful ordeal of a trial and all that goes with. A great story that I was not able to put down. I would highly recommend this book.
Review by sdbookhound
16/06/2015
I received this book through the Library Thing Member Giveaway program. The book was given to me by Kensington Books. I found the story interesting but predictable. The villains were easy to hate, but I really didn't connect with any of the characters. I found myself skimming to get through the book. Not my favorite, but I do have a few friends who would enjoy this kind of story so I will recommend it to them.
Review by shanaelyse
16/06/2015
When I think of perfect summer reads--you know, the ones you stay up late reading while you're on vacation--Fern Michaels' Betrayal comes to mind. I couldn't put it down.It wasn't that it was a seminal literary work; indeed, the characters are not immensely complex. Michaels conveys exactly which characters you're supposed to  root for (Kate Rocket, seemingly perfect in every way, Emily Winter, whose only flaw is having been part of the Winter family) and the ones you're supposed to despise (Debbie and Sara Winter, a mother-daughter team who are hosts to a plethora of dysfunctions). Betrayal starts out by dancing around the label of a suspense book, but it's more of a drama between families with a little romance thrown in for good measure. As a criminal defense attorney, I found many of the legal proceedings to be straining in their credulity, but I can't help but enjoy a book where the courtroom drama ends in favor of the underdog. Also, the Roy Black namedrop was a welcome touch. Not the most gripping or powerful book, but a solid, enjoyable, page-turner from a legendary creator of many a page-turner. Many thanks to Kensington Books for providing me with this copy for review.