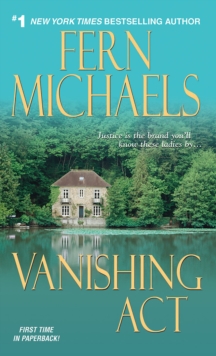 Description
For the women of the Sisterhood, planning a lavish reception for their long time ally, attorney Lizzie Fox, at their luxury mountain retreat is the ideal way to unwind after their latest successful mission.
The only cloud over the happy occasion is that their mentor, Charles, is still mysteriously absent.
But amid the friendly bickering about floral arrangements, cake tiers, and wedding favours, the ladies of Pinewood receive a frantic phone call from Nikki's fiance, Jack Emery.
Harry Wong - Yoko's true love and a staunch supporter of the Sisterhood - has become the victim of a ruthless identity theft ring.
Harry's bank accounts have been closed out, his beloved dojo is being foreclosed, and he's being evicted.
Distraught, Yoko is about to rush down the mountain to Harry's aid when the Sisters intercept her.
A situation like Harry's requires finesse, careful planning, and the Sisterhood's distinctive brand of vigilante justice.
Information
Format: Paperback
Pages: 320 pages
Publisher: Kensington Publishing
Publication Date: 01/01/2010
ISBN: 9781420106855
Free Home Delivery
on all orders
Pick up orders
from local bookshops
Reviews
Showing 1 - 2 of 2 reviews.
Review by VirginiaGill
16/06/2015
..sigh... I absolutely love this series of books. To find I'd somehow missed a couple in recent months (so many books out there!) had me giddy with anticipation. Fern Michaels never disappoints...even my husband loves these books!
Review by JoyfullyRetired
16/06/2015
I read this book on the recommendation of my sister who has read the entire series. This book was number 15 in the Sisterhood Series.Summery: It wasn't that hard to catch on to what was going on. Here's what I figured out: There is a group of women, known as the Sisterhood, who have done something so bad that they have to hide out at a mountainside retreat. Only a pardon from the president will allow them to be free. Money does not seem to be a problem. There are also a group of people in normal society who are strong supporters. This includes high level people and some sexy men.From time to time the Sisters become involved in a mission helping people who have suffered at the hands of others. The Sisters put things right and seek revenge.In Vanishing Act the Sisters become involved when one of their outside partners is completely wiped out due to identity theft. They learn the masterminds of this identity theft ring is a very clever couple who change names and disguises on a daily basis. The goal of the Sisters is to figure out who else has been robbed, determine the best way to capture the couple and how to get the money back to the victims.My evaluation: It was easy and fun to get caught up in this story. I read it off and on at the dentist's but then had to keep turning the pages until I knew what was going to happen next. While it was fun to read I had to keep telling my "inner-scoffer" to go away. This is similar to reading a "super-hero" story. Things that happen in the story could in no way happen in real life. If you like your thrillers to be completely possible, this series is not for you.