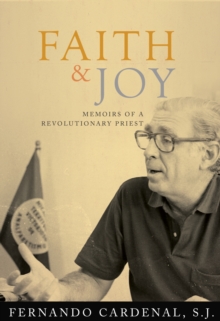 Faith & Joy : Memoirs of a Revolutionary Priest
Paperback / softback
Description
The memoirs of a priest revolutionary. "Hope is necessary in our lives. Without hope, commitment is absent. It would not make sense to work for change in society if I did not believe that change is possible.
We have lost some battles but I believe that our cause is invincible because it is the cause of justice, the cause of love."Fernando Cardenal, a Nicaraguan Jesuit priest, oversaw a national literacy campaign and served as Minister of Education in the revolutionary Sandinista government.
The Sandinista revolution was unusual for the wide participation of Christians, including priests, in the struggle.
However, the role of priest in the revolutionary government (including Ernesto Cardenal, Fernando's brother, a famous poet), was a source of bitter controversy with the Vatican.
When he declined to resign his government post (judging that it would be "a grave sin if I were to abandon my priestly option for the poor"), Cardenal was suspended from the priesthood and expelled from the Society of Jesus.
In later years, following the Sandinista era, he was readmitted - the first case of a Jesuit expelled and readmitted int he history of the Society. In this memoir Candenal describes how his Jesuit vocation led to his commitment to the poor, his decision to join the resistance to the Somoza dictatorship, and his dedication to the Sandinista cause.
The same values later led him to break with the Sandinista's, when he became disillusioned by the corruption of some party leaders.
His moving and inspiring story relates the journey of a priest who consistently followed his faith
Free Home Delivery
on all orders
Pick up orders
from local bookshops