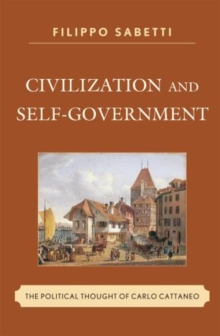 Civilization and Self-Government : The Political Thought of Carlo Cattaneo
Paperback / softback
Description
Civilization and Self-Government is the first systematic attempt to explicitly articulate the key elements of Carlo Cattaneo's pioneering attempt to advance freedom and self-government in nineteenth-century Europe.
His public science combined two elements that constitute the two parts of this book: the study of incivilimento, and the art and science of self-governance.
Cattaneo argued that people have to learn the arts of incivilimento before they can practice self-governance.
Though a distinguishing feature of Italian political thought has been to stress the multiform nature of political rule, it was Cattaneo who first showed that it was possible, through a federal commercial republic, to harmonize and foster liberty, equality, and heterogeneity.
Characteristically, he envisioned a federal commercial republic for Europe as well.
Cattaneo's ideas recast, enrich, and broaden knowledge of the history of European thought beyond that generally available in English and French.This book reveals a strong affinity between Cattaneo's and Tocqueville's spirit and vision.
Information
Format: Paperback / softback
Pages: 276 pages
Publisher: Lexington Books
Publication Date: 17/10/2013
Category: Political science & theory
ISBN: 9780739188125
Also by Filippo Sabetti