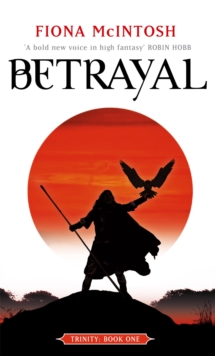 Betrayal
Paperback
Part of the Trinity series
Description
Deep in the folklore of Tallinore lies a dark story of betrayal and destruction, the story of a powerful sentient called Orlac who once razed the famed city of Caremboche, and almost destroyed the entire Land ...Now, all sentients are feared and, once discovered, subjected to the barbaric practices of bridling and branding.
But in a village far from the royal city, a young man, Tor Gynt, blazes with great power and healing abilities.
In order to fulfil his destiny, Tor must leave his home - and his love, Alyssa - to become apprentice to the royal physic.
The trouble is, Tor has no idea how important he actually is.
His only guides are a man who is no longer a man and a mysterious woman who appears to him in his dreams.
Aware of the magnitude of his powers but unsure to what end he is to use them, Tor embarks on a journey that will test his courage and his heart; a journey that can only end in triumph or betrayal.
Information
Format: Paperback
Pages: 528 pages
Publisher: Little, Brown Book Group
Publication Date: 03/08/2006
Category: Fantasy
ISBN: 9781841494579
Free Home Delivery
on all orders
Pick up orders
from local bookshops
Reviews
Showing 1 - 4 of 4 reviews.
Review by reading_fox
16/06/2015
First of a trilogy. Difficult to describe, a complex plot of well crafted characters in a fairly simple world. The magic system is complex. The King of the land upholds ancient tradition, magic "sentients" cannot be tolerated, and are ruthlessly hunted out apart from those girls who shelter in the Acadamie Untouchable. There is no explanation of the abscense of male magicians, and our hero Tor, soon realises his powers are undetectable by the ruthless Investigator squads of the Priest Goth. Tor's powers are immense, but he little knows what to do with them. His childhood sweetheart Alessa, departs her village on the day he is sent to the capital Tal, and Tor thinks he will never see her again, but the powers of the Gods, not able to actively intervene in the world, move in mysterious ways.Well written, it is an intreguing plot, revealed in small doses along the way. Obviously intended from the outset as a trilogy, this has the downside of being slow moving in places, but the undercurrent is interesting. The opening chapters set the hook, followed by seven years of flashback, as Tor recalls what got him into this mess.
Review by lambada
16/06/2015
A complex plot which holds the readers attention until the last page (and through books 2 and 3), however this is counteracted by the repetitive language - things which are intended to be subtle hints (or what I think should be subtle hints) aren't. In addition some characters seem to serve no real purpose than to provide a constant side-show throughout the trilogy,
Review by wyvernfriend
16/06/2015
I found this quite a readable fantasy novel. It suffers from some of the characters being a little overpowered and from some serious deux ex machina moments in the story. However I did find that I was quite drawn into the story and wanted to know what happened next.The story starts with a man being taken to be killed and then leaps into the past to explain where that man, Torkyn Gynt came from and why he did what he is accused of doing. He used magic in a world where magic is condemned and where people who display an ability for magic are brindled and branded. Tor has a destiny to defeat an ancient magic and some companions along the road to help him get there.There are portions that could be edited better, and it's not earthshattering stuff but I enjoyed the ride.
Review by jokester
16/06/2015
Like the book cover states, the book grabs and does not let go - a good read