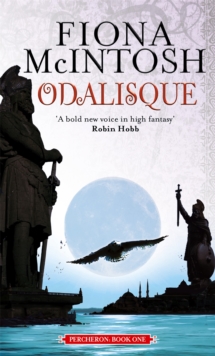 Odalisque : Percheron Book One
Paperback
Description
Fifteen-year-old Boaz is the new Zar, freshly ascended to his throne.
In the turmoil following the old Zar's death, courtiers jostle and conspire to secure their positions - not least his scheming mother, the new Valide.
It seems his only genuine friends are his late father's mad jester; Spur Lazar, head of Percheron's security; and a golden beauty - a new odalisque purchased in the foothills as a slave for the harem.
But can a madman, a soldier and a concubine be trusted to keep him safe from the Byzantine manoeuvres of his father's ambitious entourage?Pleasure and politics collide in Fiona McIntosh's exotic new fantasy trilogy, set in the harem of the great Stone Palace of Percheron.
Information
Format: Paperback
Pages: 496 pages
Publisher: Little, Brown Book Group
Publication Date: 05/07/2007
Category: Fantasy
ISBN: 9781841494609
Free Home Delivery
on all orders
Pick up orders
from local bookshops
Reviews
Showing 1 - 3 of 3 reviews.
Review by wyvernfriend
16/06/2015
It's a book that's hard to define. Set in a place that is almost Constantinople, a Constantinople of imagination. The story starts with the death of the ruler, called the Zar, and the aftereffects of that death. With the ascention of Boaz to the throne, he's underage and there is a lot of scheming and jostling for power. Many of the powerbrokers are old and have had the power they have for a long time, and know that they could influence the new Zar.The Zar has allies, Pez, his late father's jester, a seemingly mad dwarf; Spur Lazar, head of the security and Ana, one of the new recruits for his harem, but they too have secrets.It did remind me a little of Guy Gavriel Kay but only quite vaguely.It does contain some disturbing scenes and occasionally the story lags I did enjoy it. At first I was looking to see if it really was fantasy or just an alternate world story but there is magic here, it's fairly subtle but it's there. The battle between the Goddess and the God embodied in their two servants is also interesting. This book does suffer from being the first in a series, in order to set up things it has to keep some questions unanswered but I enjoyed the read and look forward to the next one.
Review by lewispike
16/06/2015
This book starts off slightly oddly, with the arrival of a "great warrior" as a slave in a rather decadent seeming city-state modeled on Istanbul under the Sultans (it says so in the introduction, and the elements are quite clear, but deftly handled). It then almost without warning jumps ahead 10 years and becomes almost day by day.For a little while it appears to be taking a rather different route to the expected one if you've read any of Fiona McIntosh's books before; then you suddenly meet the priestess of the almost forgotten Goddess, find out about the sorcerer who became a demon to keep her repressed and so much more and you feel right at home.There are still twists and turns, and she is growing more confident as an author, and is portraying both interesting characters and an interesting and not really standard culture with confidence. Whilst the themes in broad terms initially sound familiar, there is enough new in the details, and in some of the side elements that I found myself regretting book 2 wasn't instantly to hand.
Review by infjsarah
27/08/2015
Entertaining enough though it didn't grab me. But easy to read and I have moved on to the 2nd book.
Also in the Percheron Series series | View all