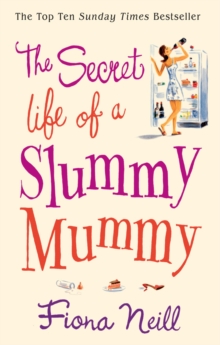 The Secret Life of a Slummy Mummy
Paperback
Description
For Lucy Sweeney, motherhood isn't all astanga yoga and Cath Kidston prints.
It's been years since the dirty laundry pile was less than a metre high, months since Lucy remembered to have sex with her husband, and a week since she last did the school run wearing pyjamas.
Motherhood, it seems, has more pitfalls than she might have expected.
Caught between perfectionist Yummy Mummy No 1 and hypercompetitive Alpha Mum, Lucy is in danger of losing the parenting plot. And worst of all, she's alarmingly distracted by Sexy Domesticated Dad.
It's only a matter of time before the dirty laundry quite literally blows up in her face...
Information
Format: Paperback
Pages: 432 pages
Publisher: Cornerstone
Publication Date: 31/01/2008
ISBN: 9780099502883
Free Home Delivery
on all orders
Pick up orders
from local bookshops
Reviews
Showing 1 - 3 of 3 reviews.
Review by paulmorriss
16/06/2015
Sometimes I find books like these, where things keep going wrong for the main character, make me inwardly cringe. However this one isn't like that. Also, although it's based on a weekly column in a newspaper, it isn't just repeats of those columns, but a series of intertwining stories in the lives of the Slummy Mummy and her friends and acquaintances: Yummy Mummy No. 1, Alpha Mum and Sexy Domesticated Dad.It's very readable and uplifting.
Review by Corazie
16/06/2015
An easy read that's like an old friend - comforting and entertaining.<br/><br/>We all know someone who is or will be a Yummy Mummy or an Alpha Mum or a Slummy Mummy or a Sexy Domesticated Dad. We all have that friend who will be in one relationship after another and never settles down.<br/><br/>Perhaps this book would appeal more to a middle class audience - I cannot relate to the lifestyles at all. But to the situations and the characters? I think fondly of them.
Review by jessicariddoch
16/06/2015
A main character that I could believe in. One who told us how it was. Her life was still a deal away from mine, much more glamerous, but there were still some of the characters that haunt my life like the yummy mummy and the alpha mum. so well described and so true to some of the people I actualy know. It was good to see these lables rounded out to real people too, making the story more real and not cardboard as may of these mum novels seem to be. To be honnest this is not a book I will ever rave about, I will probably have forgotten it within a couple of weeks. But while I was reading it I could immerce myself in the characters and story. A pleasent place to have been