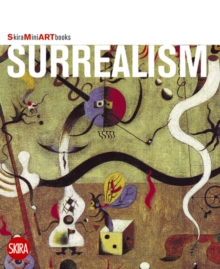 Surrealism (Skira Mini Artbooks)
Paperback
Description
Surrealism is an art movement, dedicated to expressing the imagination as revealed in dreams, free of the conscious control of reason and convention.
Surrealism inherited its anti-rationalist sensibility from Dada, but was lighter in spirit than that movement.
Like Dada, it was shaped by emerging theories on our perception of reality, the most obvious influence being Freuds model of the subconscious.
Founded in Paris in 1924 by Andre Breton with his Manifesto of Surrealism, it was above all a revolutionary movement and its principal aim was to resolve the previously contradictory conditions of dream and reality into an absolute reality, a super-reality.
The Surrealist circle was made up of many of the great artists of the 20th century, including Jean Arp, Max Ernst, Giorgio de Chirico, Man Ray, Joan Miro, Rene Magritte, Yves Tanguy, Salvador Dali.
Free Home Delivery
on all orders
Pick up orders
from local bookshops