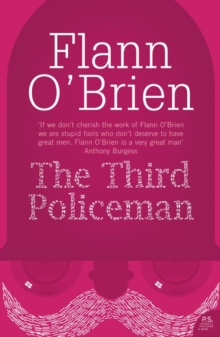 The Third Policeman
Paperback
Description
A masterpiece of black humour from the renown comic and acclaimed author of `At Swim-Two-Birds' - Flann O'Brien.A thriller, a hilarious comic satire about an archetypal village police force, a surrealistic vision of eternity, the story of a tender, brief, unrequited love affair between a man and his bicycle, and a chilling fable of unending guilt, `The Third Policeman' is comparable only to `Alice in Wonderland' as an allegory of the absurd.Distinguished by endless comic invention and its delicate balancing of logic and fantasy, `The Third Policeman' is unique in the English language.
Information
Format: Paperback
Pages: 240 pages
Publisher: HarperCollins Publishers
Publication Date: 01/04/2007
ISBN: 9780007247172
Other Formats
EPUB from £5.49
eAudiobook MP3 from £17.49
Free Home Delivery
on all orders
Pick up orders
from local bookshops
Reviews
Showing 1 - 5 of 6 reviews.
Previous | Next
Review by sanddancer
16/06/2015
This is a very bizarre book and one which I imagine will divide readers. It begins innocuously enough with a description of the narrator's life following the death of his parents, and how he came to commit a murder. But this isn't a straightforward tale of wrong-doings and things quickly become stranger. The rest of the book involves greed, guilt, eternity and bicycles!Absurd is the best way to describe the book, with the situations and dialogue taking surreal turns. Sometimes there is comedy in the absurdity, other times it is nightmarish, or just plain infuriating for the reader.Running alongside the actual "plot" (such as it is), is this book's defining feature, its use of footnotes. The narrator has undertaken a project to collect together all the writings on a philosopher/scientist called de Selby and his thoughts (often quite tenuously) turn to the works of de Selby, so extensive footnotes are provided to explain the ideas of the man, and his numerous critics. Of course, de Selby is an entirely fictional character, but the author has created a whole body of work for him and his commentators. Although it was difficult to know how to read at the same time as the main novel, I enjoyed this part most because of the contrast between the ridiculousness of his theories and the serious academic tone of criticism.This book was very different from anything else I've ever read. I would recommend it to others just on that basis, but make guarantee that anyone will like or even understand it.
Review by Tambo
16/06/2015
My book club did it one month and most people didn't really like it. I loved it but it's not everyone's cup of tea.
Review by dtw42
16/06/2015
A surreal experience, this: as if Spike Milligan and Franz Kafka drafted an Alice in Wonderland for grownups, then handed it off to PKD and M Night Shyamalan for rewrites. The absurdist Irish whimsy humour and running gag about bicycles will either tickle you or they won't. There are a couple of genuinely creepy scenes (one near the start and one near the end), and a twist that will perhaps only partially satisfy a rationalist's desire to have the preceding events explained...
Review by alexrichman
16/06/2015
Finding something 'too surreal' is probably a compliment, but this was a gruelling read. However, there were a few funny parts, mostly involving pancakes, and a neat ending to earn some credit. Reviews say Joyce would have been proud - now I'm even more afraid of Ulysses.
Review by beabatllori
16/06/2015
Pay attention now. In order to enjoy this book, you must mix equal parts of:<br/><br/>Kafka<br/> <br/>Borges<br/> <br/>Douglas Adams<br/> <br/>LSD<br/><br/>Stir carefully. If your head hurts, put it down for a while and take an aspirin. Other than that, it's brilliant. Just brilliant.
Also in the Harper Perennial Modern Classics series | View all