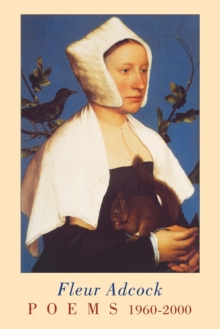 Poems 1960-2000
Paperback / softback
Description
Fleur Adcock is one of Britain's most accomplished poets.
Her poised, ironic poems are tense and tightly controlled as well as shrewdly laconic, and often chilling as she unmasks the deceptions of love or unravels family lives.
Disarmingly conversational in style, they are remarkable for their psychological insight and their unsentimental, mischievously casual view of personal relationships.
Born in New Zealand, she has explored questions of identity and rootedness throughout her work, both in relation to her personal allegiances to her native and adopted countries as well as her family history, whose long-dead characters she brings to life.
She has also written movingly of birth, death and bereavement, and has tackled political issues with honest indignation and caustic wit.
This first Collected edition of her poetry replaces her Selected Poems, with the addition of work from her later Oxford collections The Incident Book, Time-Zones and Looking Back. All her most celebrated poems are here, from the highly entertaining 'Against Coupling', 'Smokers For Celibacy' and 'The Prize-Winning Poem' to modern classics such as 'The Ex-Queen Amongst the Astronomers' and 'Things' - as well as the notorious one about kissing John Prescott 'Adcock has a deceptively laid-back tone, through which the sharper edge of her talent is encountered like a razor blade in a peach' Carol Ann Duffy, Guardian 'Most of Fleur Adcock's best poems have something to do with bed: she writes well about sex, very well about illness, and very well indeed about dreaming Her imagination thrives on what threatens her peace of mind, and only when she is unguarded can these threats have their full creative effect. Hence the importance of bed: it is the place where the elegant artful barriers that she builds from day to day are most easily over-thrown Throughout her writing life, she has made a fine art from holding on to principles of orderliness and good clear sense; but she has made an even finer one from loosening her grip on them' Andrew Motion, TLS 'Adcock's reputation has been founded on her spare, conversational poems, in which the style is deceptively simple, apparently translucentthose who see in such poems only flatness are missing the power of a voice which teases both reader and subject' Jo Shapcott, TLS
Information
Format: Paperback / softback
Pages: 287 pages
Publisher: Bloodaxe Books Ltd
Publication Date: 01/01/2000
Category: Poetry by individual poets
ISBN: 9781852245306
Free Home Delivery
on all orders
Pick up orders
from local bookshops