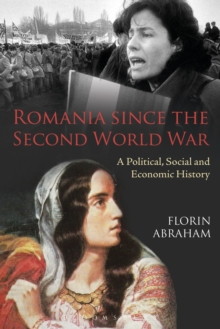 Romania since the Second World War : A Political, Social and Economic History
Hardback
Description
Romania since the Second World War offers a political, social and economic history of Romania from 1945 to the present day.
It is the first book designed for students to chart the progress of the nation under the communist regime as well as the transition period that followed, providing detailed analysis of the aspects of continuity and change that can be identified over the period as a whole. The first part of the book looks at the communist regime in depth.
It examines how communism took hold and how the elimination of traditional elites took place before discussing the impact of Gheorghiu-Dej and Nicolae Ceausescu, the two most important leaders of the communist era.
A further chapter will also be given to the main economic and social changes that took place under the rule of communism.
The second part of the book goes on to explore the transition period that followed the fall of the Berlin Wall and the end of communism in 1989, with special attention being given to international relations and Romania's drive for inclusion in NATO and the EU.
Romania since the Second World War goes on to assess socio-demographic trends across the postwar period using a range of data before concluding with some final thoughts on the nation's development during this time.
The book also includes useful biographical boxes for key figures in Romania's recent history, an extensive bibliography and further reading lists throughout. This is an essential text for those interested in the modern history of Eastern Europe.
Information
Format: Hardback
Pages: 360 pages
Publisher: Bloomsbury Publishing PLC
Publication Date: 19/11/2015
Category: European history
ISBN: 9781472532183