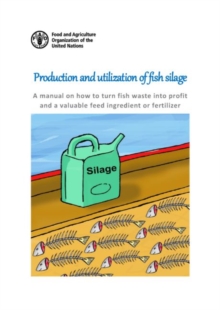 Production and Utilization of Fish Silage : A Manual on How to Turn Fish Waste Into Profit and a Valuable Feed Ingredient or Fertilizer
Paperback / softback
Description
The processing of fish leads to a significant removal of fish parts, such as heads, bones, guts, etc.
This manual will provide technical guidance on fish silage, a process that transforms fish waste into a liquid mix of hydrolysed proteins, lipids, minerals and other nutrients, easily digestible by both terrestrial and aquatic animals.
Fish silage could make a difference in terms of: environmental impact, through reduced levels of waste; animal health; and economic gains, as waste is converted into a valuable product that can replace expensive feed ingredients or fertilizers.
Information
Format: Paperback / softback
Pages: 24 pages, col. figs
Publisher: Food & Agriculture Organization of the United Nati
Publication Date: 30/09/2018
Category: Agriculture & farming
ISBN: 9789251305904
Also by Food and Agriculture Organization of the United Nations | View all