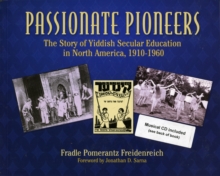 Passionate Pioneers : The Story of Yiddish Secular Education in North America, 1910-1960 (with CD)
Paperback / softback
Description
A little-known chapter in the history of Jewish education in North America involves a wide network of Yiddish schools and camps that sought to transmit a distinctive, authentic sense of secular yiddishkayt.
Over a fifty-year period at the beginning of the last century, about 1000 Yiddish cultural schools were established in the United States and Canada, along with at least 39 summer camps, sponsored by a range of organisations.
Together these schools and camps comprised a vibrant, multi-faceted educational movement with lasting significance, often overlooked by historians. The founders of these institutions, Eastern Europe immigrants who sought continuity with the richness of their past, formulated new models for education.
True visionaries, they were pioneering in their efforts - and often considered radical at the time -emphasizing Yiddish language and literature, Jewish values, folklore and traditions, in various interpretations, ideology and politics.
They were full of passion, seeking to touch the hearts as well as minds of students, creating meaningful experiences that would teach both values and facts.
Most of the teachers were trained in Eastern Europe, and quite a few were also Yiddish poets, cultural critics and artists. Passionate Pioneers: The Story of Yiddish Secular Education in North America, 1910 - 1960 is the first comprehensive documented narrative of this movement.
Through extensive research, Fradle Pomerantz Freidenreich reveals the far-reaching contributions of these institutions.
She consulted many archives in the United States and Canada, and tracked down the stories of students, professionals and laypeople involved.
She looked at communities, educators, textbooks and songs - all of which Jonathan Sarna describes in the foreword as educational archaeology. For the author, the project was personal and professional.
The daughter of a well-known Yiddish poet and a Jewish educator, she attended and later taught at a number of these schools and camps.
In this ground breaking study, she integrates personal narratives and objective reporting.
Freidenreich found more than 160 communities, including large cities, small towns, and agrarian colonies, with Yiddish secular institutions - more than she expected at the outset - and she discusses the birth and evolution of these institutions and their sponsoring groups, with their ideological and political differences.
She also reports on their eventual decline and their influence on the educational institutions that would succeed them.
These Yiddish educators were the first to link camps and school programs, providing continuity in year-round education, in the belief that education is much more than book-learning and classroom lessons. A professional educator who has worked in formal and informal settings in Jewish education, as a teacher, principal, curriculum writer, camp director, consultant and university lecturer, Freidenreich was awarded an honorary doctorate by the Jewish Theological Seminary of America.
Before making aliyah in 1989, she was the associate director of JESNA (Jewish Education Service of North America).
In Israel she has worked in higher education and curriculum development, helping train teacher educators in universities and colleges.
Information
Format: Paperback / softback
Pages: 536 pages
Publisher: Holmes & Meier Publishers Inc
Publication Date: 15/08/2010
Category: Jewish studies
ISBN: 9780841914575
Free Home Delivery
on all orders
Pick up orders
from local bookshops
Also by Fradle Pomerantz Freidenreich