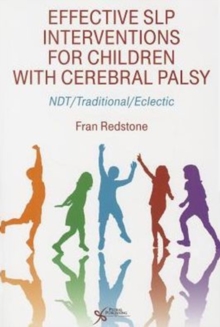 Effective SLP Interventions for Children with Cerebral Palsy : NDT/Traditional/Eclectic
Paperback / softback
Description
The impact of cerebral palsy on motor functions, such as communication and feeding, can be overlooked in speech-language therapy.
In the same way that therapy is specialized for children with hearing impairment or autism, treatment for children with cerebral palsy requires a specific focus on motor impairment. Effective SLP Interventions for Children with Cerebral Palsy was developed for therapists working with children with cerebral palsy and other neuromotor disorders.
This text outlines practical clinical interventions from expert clinicians and evaluates the evidence that supports these interventions.
Chapters highlight the problem-solving and critical-thinking skills necessary to assess and treat the feeding and communication needs of children with this central motor impairment.
Additionally, this text focuses on Neurodevelopmental Treatment (NDT) - used extensively by physical therapists and occupational therapists, but rarely by speech-language pathologists - and how NDT can be combined with other treatments to provide the best care.
Information
Format: Paperback / softback
Pages: 400 pages
Publisher: Plural Publishing Inc
Publication Date: 01/07/2014
Category: Paediatric medicine
ISBN: 9781597564731