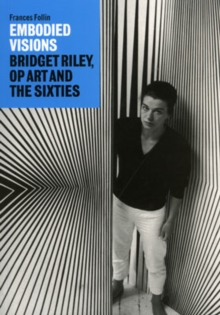 Embodied Visions : Bridget Riley, Op Art and the Sixties
Paperback / softback
Description
Bridget Riley's Op art paintings are icons of the 1960s, fascinating art lovers now as they did then.
Their central position in the art history of the period has not been generally acknowledged however - until now. In this account, based on extensive research, art historian Frances Follin examines contemporary reviews of Riley's work to reveal the complex associations between her paintings and the culture in which they were produced.
Far from being the peripheral art form that some later accounts have presented, Riley's Op work occupies a key position in contemporary debates on the future of Western societies and of modernism in the arts, relating in subtle and unexpected ways to much of the other art of the period, from Happenings to Minimalism, to earlier work such as Pollock's and to later developments in postmodernism, and to areas of culture that might seem to have little to do with art at all, such as the `space race' or the development of the `hippy' movement.Frances Follin is chair of the independent Scholars' Group of the Asociation of Art Historians.
She holds BSc, BA and PhD degrees from the University of London.
Information
Format: Paperback / softback
Pages: 264 pages, 53 Illustrations, black and white
Publisher: Thames & Hudson Ltd
Publication Date: 09/08/2004
Category: Art & design styles: from c 1960
ISBN: 9780500976432