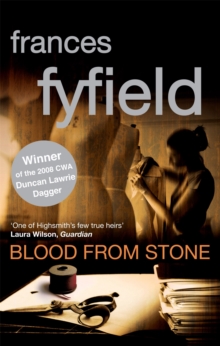 Blood From Stone
Paperback
Description
When the body of a successful criminal barrister is found outside a chic Kensington hotel, it looks at first like a suicide.
For colleagues and friends, her death comes as a huge shock - Marianne Shearer was at the pinnacle of her career, wealthy and stylish - but for the police the case is open-and-shut. There's something strange about the circumstances, though, something that prompts fellow lawyers Thomas Nobel and Peter Friel to dig deeper.
Little by little, they discover that all is not as it seems.
Oddly enough, Marianne herself appears to have left a series of small, almost imperceptible clues - clues that point to a far more sinister truth.
Retracing Marianne's steps, Nobel and Friel uncover a carefully concealed darker side of her perfect life that leads them back to her last, gruesome case - when she knowingly sacrificed an innocent witness to let a criminal walk free.
Information
Format: Paperback
Pages: 336 pages
Publisher: Little, Brown Book Group
Publication Date: 01/06/2009
Category: Crime & mystery
ISBN: 9780751539271
Free Home Delivery
on all orders
Pick up orders
from local bookshops
Reviews
Showing 1 - 2 of 2 reviews.
Review by smik
16/06/2015
BLOOD FROM STONE was chosen for discussion by my face-to-face book group. It was also the winner of the 2008 Duncan Lawrie award for Crime Writers Association best novel of the year.Apart from the enthralling story, the novel raises some ethical questions about defendants who are allowed to walk free because their lawyer was clever, not because they were innocent.It is hard to imagine anyone more evil than the Defendant, Rick West. There was plenty of evidence of previous instances where he had mistreated women. But two previous victims were not available to give evidence and then Marianne Shearer caustically and methodically destroyed the victim in the witness box. But Rick West didn't get his day in court because the case was dismissed when the victim died. And more than anything he wanted his innocence declared. Is this justice?When things become personal Marianne Shearer realises the truth of what she has done and she can see only one way out.I realised the "truth" about 2/3 of the way through the novel but that didn't limit my enjoyment.
Review by catya77
16/06/2015
Henrietta Joyce and her family are still recovering from her sister's trial as a victim of kidnap and abuse which led to her suicide. Marianne Shearer, the defending attorney, of the assailant, Rick Boyd, has apparently just committed suicide. Fellow attorneys, Thomas and Peter investigate the death.Multiple mysteries and intrigues are layered into the narrative surrounding both the trial and attorney suicide, yet the author does a remarkable job of bringing a sense of closure and tying up major loose ends.There is some graphically described violence that may not be suitable for all readers, but it is no more, and in some cases less, than certain graphic novels/comics. It is also not done for the sake of gore but for the sake of the story and portrayal of the plot/characters.Intense descriptions of items, scenery, thoughts, etc go into much of the narrative allowing for an understanding of the character whose point of view the story is currently being told from. The story is told from multiple points of view, yet there are no awkward shifts between characters or places. The narrative is free flowing, expressive, with drama, action, much emotion, and heart.Overall, a compelling read.