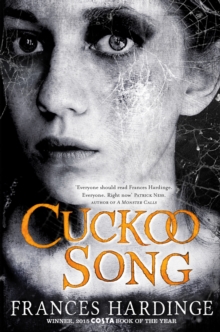 Description
'Everyone should read Frances Hardinge. Everyone. Right now.' Patrick NessCuckoo Song by Frances Hardinge, Costa Award winning author of The Lie Tree, is a fantastically eerie and beautifully written novel, and was shortlisted for the prestigious Carnegie Medal. The first things to shift were the doll's eyes, the beautiful grey-green glass eyes.
Slowly they swivelled, until their gaze was resting on Triss's face.
Then the tiny mouth moved, opened to speak. 'What are you doing here?' It was uttered in tones of outrage and surprise, and in a voice as cold and musical as the clinking of cups. 'Who do you think you are? This is my family.' When Triss wakes up after an accident, she knows that something is very wrong.
She is insatiably hungry; her sister seems scared of her and her parents whisper behind closed doors.
She looks through her diary to try to remember, but the pages have been ripped out. Soon Triss discovers that what happened to her is more strange and terrible than she could ever have imagined, and that she is quite literally not herself.
In a quest find the truth she must travel into the terrifying Underbelly of the city to meet a twisted architect who has dark designs on her family - before it's too late . . .
Information
Format: Paperback
Pages: 416 pages
Publisher: Pan Macmillan
Publication Date: 01/05/2014
Category: Horror & ghost
ISBN: 9780330519731
Free Home Delivery
on all orders
Pick up orders
from local bookshops
Reviews
Showing 1 - 2 of 2 reviews.
Review by shanaqui
16/06/2015
I didn't know Frances Hardinge had a new book out soon, so when I saw someone else talking about it in the Stacking the Shelves meme among book bloggers, I had to try. And lo and behold, I was approved for it on Netgalley. Thanks, guys!So today I had a long train journey -- four to five hours. I loaded Cuckoo Song onto my reader before I left, and had it finished before I even reached halfway. It's a compulsive read without naked demands for attention; the tension is, for the most part, in uneasiness and anxiety, in a nagging feeling that things aren't right. It's done incredibly well, to my mind. Mild spoilers lie ahead! Hardinge has chosen a really interesting perspective here in the changeling-child story. Normally the changeling would be the enemy, or nothing more than a doll. But Trista has a heart and a mind, and she makes everything work out differently -- in a way that I think, actually, is better for all involved. Without being wish fulfilment: not everyone came home safe.Really, knowing this is a changeling story doesn't affect what Hardinge does with the story. The story itself is, in a way, a cuckoo child, a changeling.I liked the ambivalent portrayal of the central family. The narrative upends things several times: there are no simple answers, no unequivocal good family/bad family. It's the more real for that, even in the midst of a fantasy story. I liked the way Trista had to earn Pen's trust, I like the big/little sister dynamic. I liked that neither version of even our heroine is unequivocally good. Flawed human beings, all -- though of course, not all of these characters are human...
Review by passion4reading
27/08/2015
Triss wakes up one morning after an accident while on holiday, but without a memory of what happened; all her other memories, such as those of her parents and younger sister, or even of her life before the accident, appear strangely vague and incomplete. As Triss regains her strength, she starts to behave in a way that bewilders those around her, and that's even before she discovers that her doll can now talk to her. When they go back home, events begin to escalate as it dawns on everyone that Triss is not really Triss at all.I thought this was a very intriguing take on the changeling story, with an unexpectedly sympathetic protagonist at its core. This is not a mindless monster made from twigs, leaves and paper (the pages of the real Triss's diaries) but someone who feels and thinks, and who has opinions of her own. I wasn't quite sure at first why the author had set the novel at the beginning of the 1920s, but it became clear quite quickly that this is, apart from describing a wild magic that finds itself backed into a corner by the modern world and with claws raised in defence, also a sensitively written lament for a generation of boys and men lost (in one way or another) during the First World War, and the consequences in society that came with women demanding more rights and liberties as a result. The plot is mainly character-driven and at times quite slow, especially the beginning, but once the dynamic between the main protagonists and the vivid atmosphere, along with some superb writing, have got their claws into you, the tension never lets up and everything fits together perfectly, though there were one or two questions that I would have liked to see the author answer. The author's use of a countdown device is very effective, but the ending was a little too neat in my opinion. Those are minor complaints, and it is principally the wonderful imagery conjured up by the author and Not-Triss's humanity (set against the inhumanity displayed by some human adults) in spite of everything that will stay with me for a long time.This is an intelligent and psychologically mature book, but because of the central relationship between the two "sisters", I think this book will appeal more to girls than boys, from about the age of 12+.