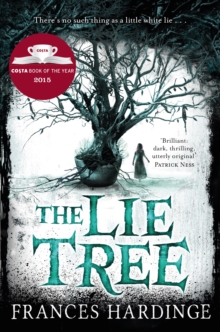 Description
Winner of the Costa Book of the Year 2015. The Lie Tree is a wonderfully evocative and atmospheric novel by Frances Hardinge, award-winning author of Cuckoo Song and Fly By Night. Faith's father has been found dead under mysterious circumstances, and as she is searching through his belongings for clues she discovers a strange tree.
The tree only grows healthy and bears fruit if you whisper a lie to it.
The fruit of the tree, when eaten, will deliver a hidden truth to the person who consumes it.
The bigger the lie, the more people who believe it, the bigger the truth that is uncovered. The girl realizes that she is good at lying and that the tree might hold the key to her father's murder, so she begins to spread untruths far and wide across her small island community.
But as her tales spiral out of control, she discovers that where lies seduce, truths shatter . . .
Information
Format: Paperback
Pages: 416 pages
Publisher: Pan Macmillan
Publication Date: 01/05/2015
Category: General
ISBN: 9781447264101
Other Formats
Hardback from £9.89
Paperback from £6.89
EPUB from £3.59
CD-Audio from £16.85
Free Home Delivery
on all orders
Pick up orders
from local bookshops
Reviews
Showing 1 - 2 of 2 reviews.
Review by passion4reading
16/06/2015
Reverend Erasmus Sunderly, a renowned natural scientist, takes his family to a small island off the south coast of England to assist in an excavation, and to escape a scandal about to break on the mainland. When the news finally reaches Vane Island the inhabitants regard the family with suspicion and distrust, but the Reverend's teenage daughter Faith, cursed with her father's inquisitiveness and curiosity, slowly discovers what her family is running from, and is determined to help him. One day she finds her father's body near the foot of the cliffs, and the general opinion is that he has committed suicide to escape the shame rather than see his reputation and honour, as well as his good family name, torn to shreds. But Faith does not believe in suicide or accident, and decides to get to the truth of the matter with the help of her father's Lie Tree, which he had kept secret, and which lives on a diet of secrets and lies and gives those who eat its fruit visions of truth.This is an intelligent and thought-provoking example of YA literature, exploring Victorian virtues, manners and morals and society's attitude towards women in particular, such as female propriety, and the resulting double standards. Set in the 1860s, a few years after Darwin's publication of On the Origin of Species, it also touches on issues of faith, with a worldview based entirely on scripture, and natural science, with an approach resting on rational thought and methodology, and therefore entirely unsuitable for a female. From the start, the tensions within the Sunderly family itself, between the Sunderly household and the servants, and the Sunderlys and the inhabitants on the island in general are palpable, and the reader learns of several secrets the islanders are trying to hide. While fascinating to a degree to watch the destruction of Victorian values, the first glimpse of the Lie Tree itself only occurs nearly one-third of the way in, even though Faith discovers its peculiar nature through her father's papers and journal some time earlier.The descriptions of the tree are atmospheric and creepy, making it appear monstrous and unnatural, and certain comparisons with the Fall in the Bible are easily drawn. As such it only appears on a handful of occasions, but the actions of Faith's father and then Faith herself are always influenced by the tree and are in turn affecting it, their lies literally bearing fruit. Frances Hardinge does not shy away from making her main character Faith appear unsympathetic at times by letting her act in ways that will seem wrong to the reader, even though she does so in the interests of discovering the truth about her father's death, therefore setting up ways to identify and relate to her through playing "What if?" scenarios in one's mind. The author's prose is full of imaginative imagery, and she manages to nail a person's character with a simple phrase. The reason I can't give it five stars is that I remain not entirely convinced by the deeper reason Reverend Sunderly and his family arrive on the island, even though it does have a beautiful symmetry to it.I'm sure this book will find an eager reception among a readership of 12+.(This review was written for Amazon's Vine programm.)
Review by rivkat
10/11/2015
Faith is the ignored daughter of a curate/natural scientist working in Darwin's wake and a mother she despises for her embrace of feminine wiles. A scandal sends the family to an isolated island, where Faith learns that almost everything she believes about her family only scratches the surface of the truth. Investigating a tree that feeds on lies, Faith learns of her own dangerous ability to spread lies and has to choose how to use it. Not my favorite of Hardinge's books, but very good nonetheless.