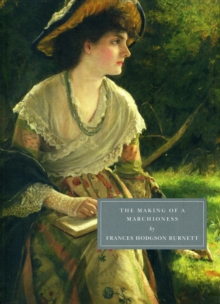 The Making of a Marchioness
Paperback
Information
Format: Paperback
Pages: 328 pages
Publisher: Persephone Books Ltd
Publication Date: 05/10/2009
Category: Classic fiction (pre c 1945)
ISBN: 9781906462123
Other Formats
Paperback from £11.95
Paperback / softback from £3.97
Hardback from £18.75
eAudiobook MP3 from £14.24
Free Home Delivery
on all orders
Pick up orders
from local bookshops
Reviews
Showing 1 - 2 of 2 reviews.
Review by DieFledermaus
16/06/2015
This book went by quickly, like many other Persephone books that I've read. The prose flowed pretty well and the plot kept me reading. However, I thought there were times when the story dipped into sentimentality and a stereotypical Indian character played a large part in the latter half of the book. The first part of the book is a Cinderella story, the second part is an almost Gothic melodrama.At the beginning of the book, Emily Fox-Seton is a well-born and well-educated no-longer-young woman who must work for a living. She runs errands for and organizes the lives of members of the aristocracy and others and must maintain her genteel appearance on a small income. Emily could be a bit much at times, with her enthusiasm manifested in an overuse of italics. However, I thought she was interesting because she differed from a number of other poor heroines who eventually get married. She wasn't an intelligent, introverted plain Jane or a gorgeous and witty girl whose only barrier to marriage is a lack of fortune. At the same time, though, she wasn't dull – in fact, her optimism and enthusiasm tended to make others pleasant and gregarious. Also, Emily has a rather dated but appropriate for the time view of marriage – it's mainly something that will support a woman and is generally obtained by being beautiful, though being charming and witty helps. Romance is not something she thinks about and she's not a woman who will stubbornly hold out for the right man, but rather than one who is decent and there.Emily is invited to help Lady Maria Bayne entertain at her country house and settles into a lady-of-all-work role while Lady Maria's cousin, the much sought-after Marquis of Walderhurst, seems to waffle between two eligible women, beautiful, sweet Lady Agatha – whose exalted social position and lack of money means she must marry soon or be pushed aside for her younger sisters – and a sharp, sparkling American heiress. The marquis chooses Emily, but has very unromantic reasons for doing so, which was rather refreshing. He partly wants to spite his good-for-nothing heir and wants to choose a woman who will not require much fussing – Emily certainly fits the bill. It's not an ecstatic happily-ever-after, love-at-first-sight end, but it might as well be given Emily's grateful reaction. In the second half, Emily is now the Marquise of Walderhurst, but is menaced by the displaced heir of the title, his Indian-born Anglo wife, and her Indian maid. There were some annoying stereotypes in this portion – the displaced, violent man and the Indian woman who is emotional but not rational, a nursemaid to the Anglo woman, and almost "magic" – able to heal and kill. Emily also becomes increasingly dependent and helpless in the second half, culminating with another too-sentimental penultimate scene, where her martyr behavior is at an extreme. A fast and engrossing read, but some irritations.
Review by annejacinta
16/06/2015
That old term Charming applies to this book, and to Emily Fox Seton. A main character whose chief attribute is kindness, imagine that!Great intro and afterword to Persephone edition, both point out the depiction of the Edwardian marriage market, and the tough realities of life for women of all classes actually.
Also by Frances Hodgson Burnett | View all