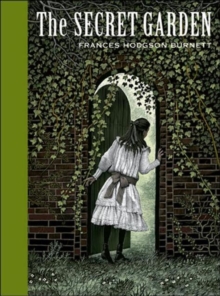 The Secret Garden
Hardback
Description
A ten-year-old orphan comes to live in a lonely house on the Yorkshire moors where she discovers an invalid cousin and the mysteries of a locked garden.
Information
Format: Hardback
Pages: 248 pages, Illustrations
Publisher: Sterling Juvenile
Publication Date: 01/10/2004
Category: Classic
ISBN: 9781402714597
Other Formats
Paperback from £2.50
CD-Audio from £8.59
Hardback from £6.45
Leather / fine binding from £13.65
Free Home Delivery
on all orders
Pick up orders
from local bookshops
Reviews
Showing 1 - 5 of 5 reviews.
Review by ellb
16/06/2015
Being a mother, I couldn't help but realize how much of an influence on the personality and health of a child is reflected in the care and concern of the parent(s). Reading this as an adult was quite different than reading it as a child.
Review by Ameliaiif
16/06/2015
This is one of my favorite childhood books ever!!! When i was little we lived in this area of fort worth where our backyards opened up to this park, and it wasnt really a garden but i always thought of myself as mary lennox walking around (haha i definitely had her attitude!). Not only is this one of the most wonderful childrens books ever, it's a truly timeless classic: the best stories are the ones that are applicable to every generation. The story is the basis for one of the greatest musicals EVER: I saw the Broadway production when i was little and a few years ago I saw it again on the West End. Dickon's my favorite ;) For tradition's sake, I'm doing a reread!!
Review by beccac220
16/06/2015
"To let a sad thought or a bad one get into your mind is as dangerous as letting a scarlet germ get into your body. If you let it stay there after it has got in you may never get over it as long as you live."Mary Lennox is a 10 year old girl unwanted and ignored by her parents. Self absorbed and obstinate, she is sent to live with her uncle at Misselthwaite Manor, a dark gloomy mansion in the Yorkshire moors of England. When she gets there not much changes-she's ignored by everyone around her, including her grumpy and distracted uncle, and she continues to act ill mannered and spoiled.Things begin to change when a friendly robin leads her to a secret door that leads to a forbidden secret garden. The secret garden opens up a new perspective for Mary, who doesn't know what it is to be loved, and she begins to love the garden and its growing things. With the help of a local "animal charmer", Dickon, and Mary's sickly cousin, Colin, who happens to be more obstinate than herself, the garden is slowly brought back to life. As they nurture the garden back to life, they begin to learn the power of caring for others and of believing in oneself.This book was a real charmer. Whimsical, mysterious, and full of good morals to teach young people, such as the importance of caring for others and the power our thoughts have on our attitudes and consequently our lives. This is a childrens classic I truly look forward to reading to my kiddos when they're a little bit older.
Review by BookConcierge
27/01/2016
Audio book performed by Vanessa Maroney<br/><br/>Mary Lennox is a spoiled, disagreeable orphaned ten year old when she is sent to live on her uncle's estate in Yorkshire. Used to living in a household of servants in India she has always been sickly and pampered. Left largely to her own devices she begins to explore the manor. Before long she uncovers some secrets, makes friends, and changes her outlook on life. <br/><br/>This is a classic of children's literature, first published in 1911. At heart it is about the restorative powers of friendship, love, and nature, and the power of positive thinking. Set in the several months from the end of winter to the beginnings of summer, the garden's rebirth mirrors the transformation in the children. It's a rather simple story but I can easily see why it has remained popular with children for over 100 years. <br/><br/>Vanessa Maroney does a fine job narrating the audiobook. She has a gift for the various accents that helps to easily distinguish which character is speaking. The Yorkshire speech of the servant girl, Martha, is sometimes difficult to understand, but that didn't really detract from the story. <br/>
Review by dbsovereign
02/03/2016
As a young man, many times I felt very much alone, and Burnett's garden came to symbolize a way out of my isolation. In my own life reading became the garden that allowed me to escape and recreate myself - so for me this book resonates on many levels.
Also by Frances Hodgson Burnett | View all
Also in the Sterling Unabridged Classics series | View all