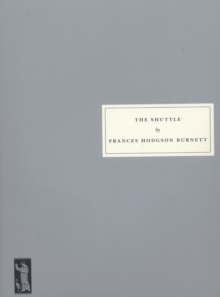 Information
Format: Paperback
Pages: 504 pages
Publisher: Persephone Books Ltd
Publication Date: 01/04/2007
ISBN: 9781903155615
Other Formats
Paperback from £11.99
Hardback from £22.95
Free Home Delivery
on all orders
Pick up orders
from local bookshops
Reviews
Showing 1 - 3 of 3 reviews.
Review by charbutton
16/06/2015
I found this to be a very enjoyable read. I liked the observations about English and American society and felt pulled along by the story. On the negative side, I felt that the characters were drawn too heavily to be entirely believable. The villain is very villainous, his victim very weak, the heroine very strong. Some of the plot was heavily signposted - I can be slow on the uptake, but as soon as the heroine's eyes met those of a man on the liner, I knew that they would end up in a relationship. I feel that Hodgson Burnett used elements of Victorian fiction - the plotline and the characters feel very similar to Wilkie Collin's The Woman in White - and this may explain the element of caricature. Despite my misgivings about the characters, this was a good read.
Review by BeyondEdenRock
27/01/2016
There's a lovely passage in Frances Hodgson-Burnett's childhood memoir – 'The One I Knew the Best of All' – that recalls the joy of imagining what wondrous stories might be inside the books on the highest shelf that she couldn't quite reach. 'The Shuttle' is exactly the right book for that child to have written when she became a grown up author. An author who understood the magic of the story; the very special kind of magic that captures children and makes them into life-long readers. This book has that magic in abundance, and I was utterly captivated, from the first page to the last.'The Shuttle' is set early in the twentieth century, at a time when wealthy American heiresses married into the British nobility. They gained titles and social standing, and their husbands gained the funds that they desperately needed to maintain their family estates.Rosalie Vanderpoel, the sweet and naïve elder daughter of a New York millionaire, married Sir Nigel Anstruther, and she had no idea that all he wanted was her fortune. She soon learned that the man she had married was cruel, selfish and dissolute, but, because he was her husband, because she was already sailing across that Atlantic, away from her family and everything that she had ever known, there was nothing she could do.Her younger sister, Betty, was still a child when Rosy married, and she saw Sir Nigel with the clear-sightedness of a child. She was suspicious of her new brother-in-law, and when Rosy failed to keep in touch with her family Betty feared the worst, and she began to make a plan. When she grew up she would go to England and rescue her sister.When Betty arrives in England, ten years later, she finds her sister a pale shadow of her former self, abandoned with her young son in a crumbling mansion at the centre of a neglected estate while her husband fritters her family money on a life of debauchery.There is a great deal that needs to be done to put things right, and Betty is the woman to do it. She has the same clear-sightedness that she had as a child, she has the understanding of business of what makes people tick that she learned at her father's kmee, and she appreciates both American initiative and British tradition.You have to love and admire Betty; she has intelligence, she has enthusiasm, she has empathy, and she is ready to spend money and to do whatever has to be done. She begins in the garden, with the gardener, and as the garden responds to love and care, so does the estate and the village around it.The transformation of Rosy and of the estate that her young son with inherit is always at the centre of the story and it's wonderful, rich in description, rich in understanding of humanity, but there is far more going on here.An American typewriter salesman on a bicycling tour of Britain has a small but significant part to play.The neighbouring estate over belongs to another impoverished nobleman, who loves his house and the country around it, but who doesn't know how to save it and is far to proud to ask for help.And back in America a proud and anxious father waited for news of his daughters.Oh, this is a wonderful story, a big, old-fashioned book that makes it so easy to just read and read and read.I loved the wonderful cast of characters: Rosy was lovely, and I really did feel for her; Betty was wonderful, the very best kind of heroine; their father was exactly the right kind of father; Mount Dunstan, from the neighbouring estate appeared weak but proved to be the best kind of hero; and Sir Nigel was a villain worthy of booing and hissing …..It's not subtle, but it is so lovely. Think of it as a story for a grown-up reader still on touch with their inner reading child ….I loved that it was rooted in real history, and that the story explored the strengths and weaknesses of the British and American ways, and how they can work together for the greater good of both. I loved that the author drew so very well on her own experiences, of life on both sides of the Atlantic and of marital abuse, and on her love of family, home and garden. I loved the house and the garden that were described so beautifully and so lovingly that they came to life. I could see them, I really could.And there's a robin – if you've read 'The Secret Garden' you'll appreciate that.I loved that this was the story of the most wonderful heroine – and that the damsel in distress was rescued not by a knight in shining armour, but by her little sister! I was a little disappointed that the end of the story lurched into melodrama, but in the end it was right. It was the ending that I had expected from quite early in the story, but the route there proved to be nicely unpredictable, and I loved every step of the journey.
Review by lauralkeet
16/06/2015
The title of this book refers to ships that routinely crossed the Atlantic at the turn of the 20th century, uniting American heiresses with English aristocrats. Nigel Anstruthers goes hunting for a bride in America, and returns with Rosalie Vanderpoel, daughter of a very wealthy American businessman. Their relationship is doomed from the start, and Nigel quickly develops into the "baddie" of this tale by driving a wedge between Rosalie and her family. Rosalie's much younger sister Betty is educated on the continent, and grows up quite business savvy thanks to a close relationship with her father. As a young woman she sets sail for England, not in search of a husband but looking to reunite with Rosalie. Betty finds her considerably changed, with her house in a state of disrepair thanks to Nigel burning his way through Rosalie's funds. With Nigel away on an extended absence, Betty sets herself to improving the estate and rescuing Rosalie from a very bad situation.Some aspects of this book worked well, but there were some predictable plot points and stock characters. And inexplicably, Rosalie's family allowed <i>twelve years</i> to pass before attempting to contact her in person. What parent in their right mind would just sit around in New York lamenting the lack of letters from their daughter, without wondering whether something was wrong? It took a serious suspension of disbelief to get past that, and admittedly my overall impression of the book suffered somewhat.I have Betty to thank for making <i>The Shuttle</i> enjoyable. She was a delightful character: a strong personality, yet one who endeared herself to everyone she met. There was no doubt in my mind she would be successful, it was just a question of how she would do it. That, and seeing how Nigel got his comeuppance, made this a worthwhile read in the end.
Also by Frances Hodgson Burnett | View all