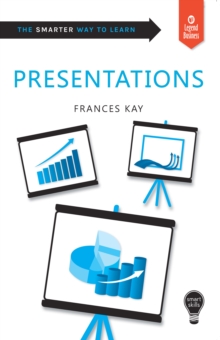 Smart Skills: Presentations
Paperback / softback
Description
Book 2 of the Smart Skills series: practical guides to mastering vital business skills and techniques.
Using proven strategies from business experts, these essential smart skills can empower anyone with the tools to get ahead. Everything you need to know about presenting- a must have for any employee, manager, freelancer or business owner Despite being one of the most dreaded professional tasks, public speaking is an increasingly important skill to master: the ability to engage and connect can truly set you apart from the crowd in a competitive market.
This easy-to-follow, succinct guide will provide you with effective tips and resources to help you with both the practical task of putting together a presentation and proven strategies for building up your confidence.
This handy guide includes:Detailed advice on strategy, structure and formatHow to pinpoint and communicate your core messageExpert strategies for staying calm and collectedUnderstanding your audience's needsHow to show your passion and create a rapport with your audienceBest practice for using visual aids and speaker notesKay splits up the presenting process into three key stages: before the presentation, during the event, and afterwards.
This easy method makes this Smart Skills guide a useful tool for anyone who has to present to an audience, even a complete beginner. ***ContentsPrefaceForewordNotes from the authorIntroduction: The opportunities - and the difficulties - of getting to your feetBEFORE THE PRESENTATIONChapter OneFocusing on the taskIdeas and objectivesStrategy, structure and formatChapter TwoGetting organisedCalming the nervesHarnessing your secret weaponsSpacial awarenessChapter ThreePutting your message togetherSpeaker's notesWith a little help from your friendsDURING THE PRESENTATIONChapter FourConfronting the audienceGaining attentionCreating rapportChapter FiveCommunicating your messageGaining acceptanceIn conclusionCan you hear me at the back?Chapter SixInvolving your listenersUse of visual aidsSigns of revoltAnything and everythingAFTER THE PRESENTATIONChapter SevenQuestion time and feedbackHandling questions and objectionsIn the chairPresentation performance checklist
Information
Format: Paperback / softback
Pages: 130 pages
Publisher: Legend Press Ltd
Publication Date: 28/02/2018
Category: Entrepreneurship
ISBN: 9781787198661
Free Home Delivery
on all orders
Pick up orders
from local bookshops