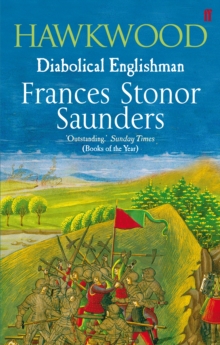 Hawkwood : Diabolical Englishman
Paperback
Description
The hugely acclaimed, best-selling life of Hawkwood, one of the outstanding figures of English and European history.
John Hawkwood was an Essex man who became the greatest mercenary in an age when soldiers of fortune flourished - an age that also witnessed the first stirrings of the Renaissance.
When England made a peace treaty with the French in 1360, during a pause in the Hundred Years War, John Hawkwood, instead of going home, travelled south to Avignon, where the papacy was based during its exile from Rome.
He and his fellow mercenaries held the pope to ransom and were paid off.
Hawkwood then crossed the Alps into Italy and found himself in a promised land: he made and lost fortunes extorting money from city states like Florence, Siena, and Milan, who were fighting vicious wars between themselves and against the popes.
This man of war husbanded his use of violence, but for all his caution he committed one of the most notorious massacres of his time - an atrocity that still clouds his name.
Information
Format: Paperback
Pages: 400 pages
Publisher: Faber & Faber
Publication Date: 07/07/2005
ISBN: 9780571219094
Free Home Delivery
on all orders
Pick up orders
from local bookshops
Reviews
Showing 1 - 1 of 1 reviews.
Review by jcbrunner
16/06/2015
This book will please all readers who love Barbara Tuchman's Distant Mirror. Following Tuchman's lead (and often citing her), Saunders uses the English soldier of fortune to present vignettes from the 14th century, a time of plague, famine, war which rivaled the first half of the 20th century in human suffering - but the rich and beautiful were merry still. This book isn't a conventional biography. Hawkwood's life ties together a wide range of factoids from a list of unholy sexual positions to banquet inventories. Various other persons (such as St. Catherine from Siena) are given extensive guest roles, probably because the source material about Hawkwood proper is limited. I wish the author had expanded the treatment of the military aspects and situated Hawkwood among his peers.Hawkwood learned his trade in the dreadful chevauchées, the systematic plundering and rape of France during the Hundred Years War. When England and France were to exhausted to fight on, Hawkwood led his band of marauders to Italy where rivaling cities, locked in perpetual conflict, were limited by the costliness of standing armies. Hawkwood and many other foreigners (Saunders gives Hawkwood an undue historical prominence) saw the business opportunity in leasing their soldiers to the highest bidders while living off the land - torturing, plundering and raping the population, essentially as a sort of land-borne pirates. It is noteworthy that Hawkwood was already in his Forties when he came to Italy and continued to campaign up to old age. In a twist of irony, the humble Essex boy died honored by Florence, a city he tormented earlier, and bankrupt - despite the millions he earned and plundered. In contrast to the later Landsknechte, the (mounted) lances were terribly expensive in upkeep (warhorse, arms and armour). Like a pirate, he had a good time at the expense of others. Like pirates, Hawkwood's image remains curiously untainted by all the mayhem he caused, especially the massacre of Cesena. Recommended as an introduction to the medieval world.
Also by Frances Stonor Saunders | View all