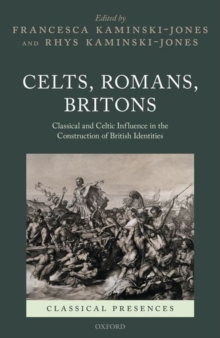 Celts, Romans, Britons : Classical and Celtic Influence in the Construction of British Identities
Hardback
Description
This interdisciplinary volume of essays examines the real and imagined role of Classical and Celtic influence in the history of British identity formation, from late antiquity to the present day.
In so doing, it makes the case for increased collaboration between the fields of Classical reception and Celtic studies, and opens up new avenues of investigation into the categories Celtic and Classical, which are presented as fundamentally interlinked and frequentlyinterdependent.
In a series of chronologically arranged chapters, beginning with the post-Roman Britons and ending with the 2016 Brexit referendum, it draws attention to the constructed and historically contingent nature of the Classical and the Celtic, and explores how notions related to both categorieshave been continuously combined and contrasted with one another in relation to British identities.
Britishness is revealed as a site of significant Celtic-Classical cross-pollination, and a context in which received ideas about Celts, Romans, and Britons can be fruitfully reconsidered, subverted, and reformulated.
Responding to important scholarly questions that are best addressed by this interdisciplinary approach, and extending the existing literature on Classical reception and nationalidentity by treating the Celtic as an equally relevant tradition, the volume creates a new and exciting dialogue between subjects that all too often are treated in isolation, and sets the foundations for future cross-disciplinary conversations.
Information
Format:Hardback
Pages:288 pages, 9 illustrations
Publisher:Oxford University Press
Publication Date:30/09/2020
Category:
ISBN:9780198863076
Also in the Classical Presences series | View all