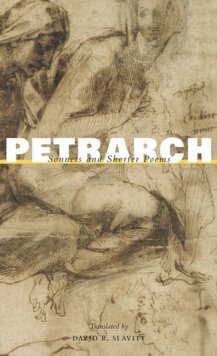 Sonnets and Shorter Poems
Hardback
Description
In this volume, David R. Slavitt, the distinguished translator and author of more than one hundred works of fiction, poetry, and drama, turns his skills to Il Canzoniere (Songbook) by Petrarch, the most influential poet in the history of the sonnet.
In Petrarch's hands, lyric verse was transformed from an expression of courtly devotion into a way of conversing with one's own heart and mind.
Slavitt renders the sonnets in Il Canzoniere, along with the shorter madrigals and ballate, in a sparkling and engaging idiom and in rhythm and rhyme that do justice to Petrarch's achievement. At the center of Il Canzoniere (also known as Rime Sparse, or Scattered Rhymes) is Petrarch's obsessive love for Laura, a woman Petrarch asserts he first saw at Easter Mass on April 6, 1327, in the church of Sainte-Claire d'Avignon when he was twenty-two.
Though Laura was already married, the sight of her woke in the poet a passion that would last beyond her premature death on April 6, 1348, exactly twenty-one years after he first encountered her.
Unlike Dante's Beatrice-a savior leading the poet by the hand toward divine love-Petrarch's Laura elicits more earthbound and erotic feelings.
David Slavitt's deft new translation captures the nuanced tone of Petrarch's poems-their joy and despair, and eventually their grief over Laura's death.
Readers of poetry and especially those with an interest in the sonnet and its history will welcome this volume.
Information
Format:Hardback
Pages:352 pages
Publisher:Harvard University Press
Publication Date:02/03/2012
Category:
ISBN:9780674062160