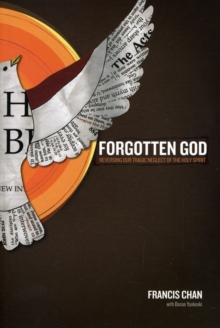 Forgotten God : Reversing Our Tragic Neglect of the Holy Spirit
Paperback
Information
Format: Paperback
Publisher: David C Cook Publishing Company
Publication Date: 29/05/2009
ISBN: 9781434767950
Free Home Delivery
on all orders
Pick up orders
from local bookshops
Reviews
Showing 1 - 5 of 7 reviews.
Previous | Next
Review by True54Blue
16/06/2015
The Forgotten God that Francis Chan is referring to is God the Holy Spirit. He ably addresses the fact that we as Christians seem to have forgotten the place of Holy Spirit in our lives. He seeks to redress this failure by reminding us of our calling to live like Christ empowered by his Holy Spirit. Chan focuses on the role of Holy Spirit in sanctification and our need to not only focus on Christ and God the Father.In the introduction he states, "While no evangelical would deny His [Holy Spirit's] existence, I'm willing to bet there are millions of churchgoers across America who cannot confidently say they have experienced His presence or action in their lives over the past year. And many of them do not believe they can" (15). I don't think too many would argue with this statement. Unfortunately, too many Christians are convinced that they can't do any better and they accept the status quo. Of course, that is the point - they can't do any better and need to let Holy Spirit empower them. Why are so many Christians discouraged and feel disempowered about living holy lives?Chan addresses this issue in seven chapters each of which seeks to answer a specific question. At several points in the book he cautions readers to stop and think about where they are at, or to read a certain section of Scripture and reflect on it before coming back to this book. This is helpful if people are willing to do it. Like most things in life, readers will only be successful in receiving a fill-up of Holy Spirit and living out of his strength if they seek to place themselves within his sphere of influence. Exhibiting the fruit of the Spirit isn't about intellectual knowledge but about allowing Holy Spirit to control us. Let us renew our minds and walk in his ways. Amen!This book isn't overly long (167pp) so it will be an easy read for most. There is more to be said about Holy Spirit and his role in our lives and in the church but if there was one introductory book I would want church goers to read this would be it.
Review by wilsonknut
16/06/2015
Chan's second book focuses on the part of the Trinity most people don't understand and find most mysterious: the Holy Spirit. Chan brings the same passion for God he described in <i>Crazy Love</i> to this book and challenges the reader to really think about his or her relationship to God and how they are living.
Review by l_millsaps
16/06/2015
One of the great mysteries of Christianity is wrapped up in our understanding of the very God we worship – one God in three persons: God the Father, God the Son and God the Holy Spirit. Though we accept this to be true, we have trouble grasping exactly what it means, and we especially have trouble with the third member of the Trinity, the Holy Spirit. Many of us would echo the title of Forgotten God's first chapter: "I've Got Jesus. Why Do I Need the Spirit?" In his book, Francis Chan tries to answer this question for us.As the pastor of a mega church in California, Chan was bothered by the lack of supernatural power and dramatic life-change within his congregation. It began to dawn on him that "something very important (was) missing..... namely, the Holy Spirit." This realization pushed him to search the Bible for truths about who the Holy Spirit is and how He operates in our lives. The result is a book that is scripturally sound, personally convicting, and powerfully motivating. Chan's book is a wake-up call to the church, as he urges us to live radical, spirit-filled lives that show we are different from the rest of the world. He reminds us that we have the same power within us that created the universe and raised Jesus from the dead. Too often, we want to live safe, comfortable lives, taking no risks and avoiding danger at all costs. This book made me realize that if I am filled with the Spirit, I should be doing things that seem crazy at times...and I should be encouraging – not discouraging – other Christians to live the same way
Review by deusvitae
16/06/2015
A discussion of the Person and work of the Holy Spirit.A fairly good discussion, although the author never seems to account for likely differences between the work of the Spirit in the first century from what He has done since the first century. Nevertheless, Chan makes many compelling observations about how whatever God is doing, man must also work as well and submit his will to His; that we should seek to follow God more than keep begging to try to find out His particular will for us; that we should seek to participate in God's work more than expecting God to bless our work; that if we live according to the Spirit there should be evidence of His fruit in our lives-- love, peace, patience, etc. A more theological bent that is greatly appreciated; nevertheless, an issue that still requires a lot of wrestling and challenges, and many vexing issues that could have some clarification and yet not.
Review by BradKautz
16/06/2015
When thinking of God, or praying to God, what is it that Christians usually have in their minds? Quite often the image is "God" as a somewhat generic supreme being, if God can be considered generic in any way. Another image is of God as "Father," one where God is again supreme and also embodying all of the best qualities a person may think of in a parent, without having any of the human characteristics that are somewhat unsavory and may be found even among the best persons, such as fits of temper when exasperated. And there is always "Jesus" as the God to whom we pray. Jesus lived on earth as God's divine Son, and lives today in heaven at "the right hand of the Father," to cite the Apostles Creed. There are numerous Bible verses that instruct Christians to pray to, and through Jesus, so praying to Jesus is another easy image to hold in mind as we pray. But to be Christian is to also know that God has revealed himself as Triune, having three distinct persons of Father, Son and Spirit, and yet always being God. This last person of the Triune God, the Holy Spirit, is the subject of Francis Chan's Forgotten God: Reversing our Tragic Neglect of the Holy Spirit (Colorado Springs, CO: David Cook, 2009). Chan's thesis is that the Holy Spirit is frequently neglected among Christians and the aim of his book is to help Christians understand the absolutely essential nature of the Spirit to being a follower of Jesus. He wants us to love the Spirit as deeply as any other aspect of God, including Jesus, and to be empowered to discern the presence and follow the lead of the Spirit in every aspect of our lives. Chan is a gifted preacher, with the ability to clearly express deep and powerful thoughts in ways that make his audience want to love and follow God more than anything else. His writing has a similar style, and in the seven chapters of this book he leads his readers to a greater understanding of who the Spirit is, what the Spirit does, and what the Spirit can do in the lives of Christians today, should they take the time to listen and follow God's voice as made known in the Spirit. Each chapter addresses a way in which the Spirit impacts Christian living, such as why Jesus alone is insufficient, or what a personal relationship with the Spirit might look like for the person who doesn't yet have one. Each chapter also includes a brief story of someone that Chan knows who is living in a way that demonstrates the Spirit at work in their life. Chan believes that many Christians often look to God to meet their own needs, rather than seeking God and submitting themselves to God's purposes. He writes, "[God] wants us to know that His gift of the Holy Spirit is really not for our own pleasure or purposes. The Spirit is meant to lead us toward holiness. The Spirit is here with us to accomplish God's purposes, not ours." (93) It is the Spirit, living within Christians, that guides, strengthens, and comforts Christians for a life of joyful submission to God in the world, come what may. I really liked this book and thought it was a good follow-up to his preceding book, Crazy Love: Overwhelmed by a Relentless God. In Crazy Love Chan wrote about the greatness and goodness of God, a God so wonderful that, in faith, we should be head-over-heels in love with him. In Forgotten God we are shown that it is the Spirit active in us that makes that type of love of God possible. Forgotten God ends with this heartfelt word of prayer, "Come, Holy Spirt, come. We don't know exactly what that means and looks like for each of us yet, in the particular places You've called us to inhabit. But, nonetheless, whatever it means, we ask for Your presence. Come, Holy Spirit, come."