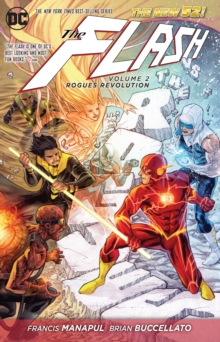 The Flash Volume 2: Rogues Revolution HC (The New 52)
Paperback
Description
Struck by a bolt of lightning and doused in chemicals, Central City Policescientist Barry Allen was transformed into the fastest man alive.
Tapping intothe energy field called The Speed Force, he applies a tenacious sense of justiceto protect and serve the world as The Flash!
The Flash's Rogue's Gallery areback - but they are more powerful than ever and they're each looking totake down the Fastest Man Alive!
Who is behind their sudden organization and whyare they also after their former leader, Captain Cold?
The Flash must think fastif he can outrun and survive their attack!
Collects The Flash issues #9-12, #0, and Annual #1.
Information
Format: Paperback
Pages: 176 pages
Publisher: DC Comics
Publication Date: 02/12/2013
Category: Superheroes
ISBN: 9781401242732
Free Home Delivery
on all orders
Pick up orders
from local bookshops
Reviews
Showing 1 - 3 of 3 reviews.
Review by WiseYoungFools
16/06/2015
In volume 2 of New 52's The Flash, we are introduced to another array of villains and treated to the origin of The Flash. While this volume was better than its predecessor, the narrative and plot style leave much to be desired. The plot structure continues to be fight after fight with little explanation as to what exactly is going on. While the origin of the Flash read very well, it came as a flashback of sorts after Gorilla Grodd suddenly shows up as Flash is being held captive by the Rogues Gallery. There is too much going on and the narrative is jarring for it. I hope that the future volumes of The Flash will try to focus in on particular parts of the story rather than be a nonstop fight with random tidbits thrown in between to act as the falling action.
Review by ElizaJane
16/06/2015
I liked this better than vol. 1 but it's still missing something in the plot department. Now I'm only just getting to know Flash, previously I'd only read him in Justice League and pre-52 I'd read the odd comic with him against Gorilla Grodd or Mirror Master. So this book starts by getting Flash away from Gorilla and back to earth. Then the rest of the book has the Rogues Gallery working against Captain Cold and the Flash interfering with their troublemaking. I really enjoyed this part as I'm a big fan of team-ups whether they be hero or villains. I'd never heard of any of these guys before, except Mirror Master and we got a really good introduction to them all here, though some more than others of course. Then near the end the Gorilla's land on earth looking for Flash. The volume ends with an origins issue which mostly explains Flash's background and relationship with his father. Did his father kill his mother, or not? Liking this, but wanting more.
Review by wvlibrarydude
23/09/2015
Art work is fantastic. Characters are starting to develop. Story line is a little disjointed, but it is starting to come together.