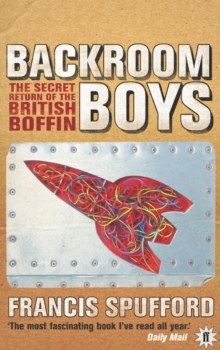 Description
A rapturous history of British engineering, a vivid love-letter to quiet men in pullovers, Backroom Boys tells the story of how this country lost its industrial tradition and got back something else. 'A wonderful accomplishment - Backroom Boys sharply evokes a lost world of Dan Dare, Look and Learn and Meccano, and goes on to show us how that world was never lost: that it is, in fact, the secret history of today.' Ken MacLeod 'Unreservedly marvellous ...Francis Spufford is the Tom Wolfe of technology journalism.' Focus 'Provides start-to-finish enjoyment ...[Spufford] can make the heart leap simply by detailing what engineers do with mild steel or carbon fibre.' Sunday Times 'I don't want to pretend that Backroom Boys is perfect; It's just as near to it as makes no difference.' Daily Telegraph 'The man writes like a dream - informed, fresh, racy prose ...You wouldn't think that a book describing the fall and rise of British technologies since 1945 could be unputdownable, but Spufford shows it can be done.' Guardian
Information
Format: Paperback
Pages: 272 pages
Publisher: Faber & Faber
Publication Date: 02/09/2004
Category: Biography: general
ISBN: 9780571214976
Free Home Delivery
on all orders
Pick up orders
from local bookshops
Reviews
Showing 1 - 2 of 2 reviews.
Review by stevepugh
16/06/2015
Six vignettes from the post-war history of British engineering - the Black Arrow rocket, Concorde, the computer game Elite, Vodafone, the Human Genome project, and Beagle 2. Illustrates the changing relationship between science/engineering, government and business. Very interesting read as even if you already know one or two of the topics it's unlikely that you'd know them all and hence the comparisons reveal something new about how Britain has changed over the last five decades.
Review by Noisy
16/06/2015
Six vignettes of plucky Brits battling against the odds, and doing things that have never been done before ... and, in some cases, or since. I have to say that I found the writing to be pretty poor, but the stories are quite amazing. The British space rocket that put the Prospero satellite in orbit in 1971 (and it's still up there); Concorde, the only successful SST - about to be pulled from the skies in the 1980s, but taken over by British Airways and turned into a profit-maker; Elite - the computer game that broke the mould; why Vodaphone is the world leader in mobile telephony; how Michael Morgan, John Sulston and the Sanger Centre beat Craig Venter at the game of mapping the human genome; and the story of the Beagle 2 - the British contribution to exploration of Mars (almost). Incredible hidden history that really deserves to be much more widely known.