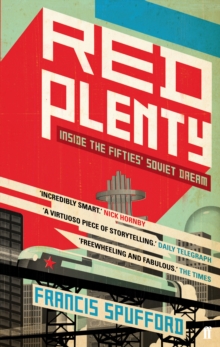 Description
The Soviet Union was founded on a fairytale. It was built on 20th-century magic called 'the planned economy', which was going to gush forth an abundance of good things that the penny-pinching lands of capitalism could never match. And just for a little while, in the heady years of the late fifties, the magic seemed to be working.Red Plenty is about that moment in history, and how it came and went away; about the brief era when, under the rash leadership of Nikita Khrushchev, the Soviet Union looked forward to a future of rich communists and envious capitalists, when Moscow would out-glitter Manhattan, every Lada would be better engineered than a Porsche and sputniks would lead the way to the stars.
It's about the scientists who did their best to make the dream come true, to give the tyranny its happy ending.
Information
Format: Paperback
Pages: 448 pages
Publisher: Faber & Faber
Publication Date: 01/07/2011
ISBN: 9780571225248
Free Home Delivery
on all orders
Pick up orders
from local bookshops
Reviews
Showing 1 - 2 of 2 reviews.
Review by BrianHostad
16/06/2015
Amazing book telling the story of the late 50s optimism in the Soviet Union on how it could become economically greater than the USA and how it fails. Told through a series of small scenes over a 10 year period intertwining the lives of mainly real people, it really is a compelling read on subject matter which could be incredibly dry. The list of characters at the front is great reference and I recommend you read the notes on each section after reading the section as they give more historical context and background.
Review by smerus
16/06/2015
Brilliant, ingenious and informative - and surprisingly entertaining. An innovative piece of imaginative fiction which centres on concepts rather than people, and in the process sheds light not only on some of the economic history of Russia, but also, indirectly, on economic thinking in Europe (Cambridge in the 1970s was still banking on building mathematical models of the economy) . You will need the cast list at the front.