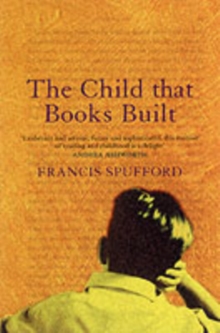 The Child That Books Built
Paperback
Description
Fairy tales and Where the Wild Things Are, The Lord of the Rings and the Narnia books, Little House on the Prairie and The Earthsea Trilogy. What would you find if you went back and re-read your favourite books from childhood? Francis Spufford discovers both delight and sadness, in this widely celebrated memoir of a boy who retreats into books, faced with a tragedy in his family. 'A beautifully composed and wholly original memoir, sounding the classics of children's literature.' David Sexton, Evening Standard 'Exuberant and serious, funny and sophisticated, this memoir of reading and childhood is a delight.' Andrea Ashworth
Information
Format: Paperback
Pages: 224 pages
Publisher: Faber & Faber
Publication Date: 01/03/2003
Category: Autobiography: general
ISBN: 9780571214679
Free Home Delivery
on all orders
Pick up orders
from local bookshops
Reviews
Showing 1 - 5 of 7 reviews.
Previous | Next
Review by Eric_the_Hamster
16/06/2015
An easy going and slightly whimsical trip down memory lane (particularly if, like me, you are of an age with Francis Spufford and grew up with the same books he did). This is described as an autobiography, and certainly contains many biographical details, but is centred on the books he read. Much of the book can equally be read as a series of essays as book reviews. I read this and enjoyed it so much, I recommended it to my book group. We read it and it generally had a good reception.
Review by herschelian
16/06/2015
This is a most unusual memoir of childhood by a man who was as a child an obsessive reader. Spufford used books and reading as a buffer and an escape route from a family beset with a tragedy. As an adult he revisits the children's classics that he had read so avidly and goes back into his childhood. A really poignant book that will touch all readers who lost themselves in books when they were children.
Review by saroz
16/06/2015
Good stuff, if a little more heavy on the psychology of children's fiction than the actual "memoir" part. It starts to go a little pear-shaped right at the end, and comes to a conclusion VERY abruptly, but I still enjoyed it. Highly recommended for anyone who spends inordinate amounts of time in bookshops.
Review by anglemark
16/06/2015
Well-written and interesting about the childhood books that formed the author and what in them that appealed to him. I'm not convinced by the argument that runs thorugh the book that for him reading fiction was a bad thing because he retreated into it away from the real-world issues he should have tried to resolve instead.
Review by wandering_star
16/06/2015
This is a memoir based around the books that the author remembers reading as he was growing up. I think I am about eight years younger than Spufford, so a lot of the books he mentioned were favourite reading of my own childhood. It's also a consideration of how stories and books develop and stretch a child's imagination and understanding of the world around them. Spufford writes beautifully on this - the way that something from a book can just crystallise knowledge that is already there in your head, or the way that a child will skim over words they don't understand until gradually "the gaps in the text where I did not know words began to fill themselves in from the edges, as if by magic... The empty spaces thickened, took on qualities which at first were not their own, then became known in their own right."There is one chapter (about stories and pre-literate children) which I found tremendously hard to get through, and I wonder if this is why other reviewers have described it as 'turgid'. There was a lot of interesting information in the chapter - about psychoanalytical readings of and the developmental purposes of fairy stories - but it felt like undigested chunks of research and there was not much structure. But the book really lifted off when Spufford started talking about books that he'd read, as opposed to stories that were read to him.