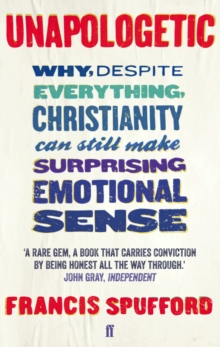 Unapologetic : Why, Despite Everything, Christianity Can Still Make Surprising Emotional Sense
Paperback
Description
Unapologetic is a brief, witty, personal, sharp-tongued defence of Christianity, taking on Dawkins' The God Delusion and Christopher Hitchens' God is Not Great.Its argument is that Christianity is recognisable, drawing on the deep and deeply ordinary vocabulary of human feeling, satisfying those who believe by offering a ruthlessly realistic account of the bits of our lives advertising agencies prefer to ignore.
It's a book for believers who are fed up with being patronised, for non-believers curious about how faith can possibly work in the twenty-first century, and for anyone who feels there is something indefinably wrong, literalistic, anti-imaginative and intolerant about the way the case for atheism is now being made.Fresh, provoking and unhampered by niceness, this is the long-awaited riposte to the smug emissaries of New Atheism.
Information
Format: Paperback
Pages: 240 pages
Publisher: Faber & Faber
Publication Date: 01/03/2013
Category: Christianity
ISBN: 9780571225224
Other Formats
CD-Audio from £14.39
EPUB from £6.39
Free Home Delivery
on all orders
Pick up orders
from local bookshops
Reviews
Showing 1 - 3 of 3 reviews.
Review by maryreinert
16/06/2015
've been a Christian all my live--was born and raised that way. But somewhere along the line, I decided that was really a good thing. My beliefs have changed considerably since going through junior high confirmation instruction, but amazingly they have also stayed much the same. This book is nothing short of brilliant in that it puts into words much of what I have come to believe but just didn't have the ability to express it in such a way. And although I've heard the story of the last days of Jesus thousands of times, I've never heard it told the way he does. It's as if I was hearing it for the first time.That's not to say this is an easy read by any means. Spufford makes many references that I had to look up and I even had to resort to the dictionary several times. His vocabulary is far greater than mine. Many times, I simply had to reread an entire paragraph to understand. At the same time, he often made me laugh out loud. Yes, he's irreverent in places, but irreverent to things that really don't matter. For the things that do matter, he obviously has deep respect.This is a book to keep and reread. It's not a devotional or an inspirational book. It's an objective look at a very subjective topic, told not from research or in any kind of scientific way. Spufford is obviously a very smart man, and it's very refreshing to read an intelligent and thoughtful look at Christianity and what it means to him. And what it means to him, makes makes sense to me and that is reassuring. This is not a book for everyone, but it is a book that should be explored by those that question what they believe and by those that are uncomfortable with what many call "Christianity." This isn't any kind of "new age" approach; it isn't a condemnation of anyone or any belief, it isn't political, liberal or conservative. It isn't my junior high Sunday School lesson; yet, in many ways the theme is still the same. Spufford's lesson, however, is for the adult who has realized that a twelve-year-old's faith doesn't cut it in a forty-year old's life.
Review by jandm
27/08/2015
Brilliant. Simply brilliant. It's the book I no longer need to write -- not that I could ever match Spufford's honesty or style in writing, and getting underneath the surface of faith. This would particularly suit someone who thinks that the Christian faith could never be satisfying, or is underneath just a nasty religion, or is just shallow wish-fulfilment.
Review by AnneBrooke
27/08/2015
Mostly unhelpful ranting, but in the midst of the guff, there's a totally brilliant chapter about Jesus, and a very powerful ending.