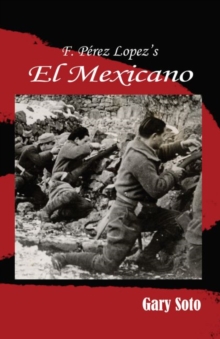 F. Perez Lopez's El Mexicano
Paperback / softback
Description
The Spanish Civil War, a precursor to World War II, was a testing ground of not only political might between feuding factions in Europe but also military hardware-modern tanks and aircraft from Hitler's Germany and Mussolini's Italy, for instance.
The civil war, which began in 1936 and ended in 1939, witnessed more than 500,000 deaths. One volunteer was Francisco Perez Lopez, Spanish by birth but raised in France.
He began as a recruit at the age of twenty and emerged a platoon leader in roadside skirmishes, firefights in villages and forests, and in the Battle of the Ebro, the last stand for the Republican cause.
He became a prisoner, a medic, a favorite among nuns, and then an escapee-his feats for survival are nothing less than genius.
Gary Soto's condensed yet artful and sensitive retelling is a gripping tale of human dignity and one man's unflagging commitment to justice.
Information
Format: Paperback / softback
Pages: 120 pages
Publisher: Stephen F. Austin State University Press
Publication Date: 30/04/2018
Category: European history
ISBN: 9781622881635
Free Home Delivery
on all orders
Pick up orders
from local bookshops