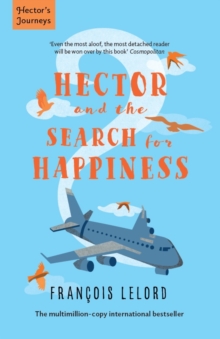 Hector and the Search for Happiness
Paperback
Description
Can we learn how to be happy? Hector is a successful young psychiatrist. He's very good at treating patients in real need of his help.
But many people he sees have no health problems: they're just deeply dissatisfied with their lives.
Hector can't do much for them, and it's beginning to depress him. So when a patient tells him he looks in need of a holiday, Hector decides to set off round the world to find out what makes people everywhere happy (and sad), and whether there is such a thing as the secret of true happiness.
Information
Format: Paperback
Pages: 320 pages
Publisher: Gallic Books
Publication Date: 01/04/2010
ISBN: 9781906040239
Free Home Delivery
on all orders
Pick up orders
from local bookshops
Reviews
Showing 1 - 4 of 4 reviews.
Review by gaskella
16/06/2015
This is one of those marmite books - you either enjoy it - finding it charming, or else hate it finding it too cute and patronising - I'm one of the former.It's a simple premise. Hector is a young psychiatrist; he loves his job and is good at it, but he's finding that sorting out depressed people every day was beginning to drag him down too. Also his longterm relationship with Clara is stagnating. So he decides to take time off and travel around the world visiting his friends and colleagues to see if he can find out the secrets of happiness. He flies off around the world where he meets and falls for a Chinese callgirl, encounters a very wise old Chinese monk, negotiates with drug barons and gets kidnapped in Africa, and visits a professor of happiness while staying with friends in the land of 'More' before returning to work via another visit to the Chinese monk to tell him what he'd found out. All ends are tied then up neatly.Hector's author is himself a psychiatrist, and in the short Q&A at the back, he tells how he wanted to write a sort-of self-help book as a novel, but it is this epithet of 'self-help' that seems to have put peoples' backs up. If you ignore this aspect and read it as a novel, it is great fun, full of great observations about life, and it definitely has a droll sense of humour. The naive fablelistic (is that a word?) style may not be to everyone's liking but suited me fine, although the neat ending was a bit of a copout.This the fourth title I've read from Gallic Books and I've enjoyed all of them, finding a strong liking for contemporary French literature. (8/10) I bought this book.
Review by readingwithtea
27/08/2015
Read this on the plane to and from Germany on a rare weekend away from the Bedfordshire portacabin. I kept waiting for it to be transcendent... and it never was. I get that we are suppose to learn the simple lessons of happiness that Hector encounters, but it felt childishly written - and not in a good way like The Girl Who Saved The King Of Sweden. Next.
Review by karenlisa
16/06/2015
Hector and the Search for Happiness By Francois Lelord Hector is a psychiatrist who cannot understand why some of his patients (actually most) have no apparent health, family or job problems but are not happy. Although he tries and tries he is not able to sufficiently help them. Hector, who had always thought of himself as "happy" begins to feel sad that he cannot help all his patients and decides to travel the world on a holiday in search for the secret to happiness. This fable/story is a laugh out loud tale that rings true on many different levels. With each chapter are life lessons that the reader may say they already know, but it is always best to be reminded of the simple truth. Lesson no. 24 Happiness is reading a good book.
Review by Gary10
16/06/2015
French psychiatrist embarks on an international trip to decide what makes people happy. Written like a modern parable, in very simple language--reminded me a bit of the Little Prince. And I supposed you could call it cheap philosophy. Still, we probably spend too little time thinking about what really makes us happy and the book will get you doing that--which isnt a bad use of a few hours.
Also in the Hector's Journeys series | View all