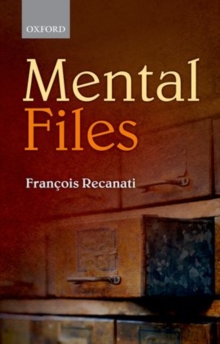 Mental Files
Paperback / softback
Description
Francois Recanati presents his theory of mental files, a new way of understanding reference in language and thought. He aims to recast the 'nondescriptivist' approach to reference that has dominated the philosophy of language and mind in the late twentieth century.
According to Recanati, we refer through mental files, which play the role of so-called 'modes of presentation'.
The reference of linguistic expressions is inherited from that of the files weassociate with them.
The reference of a file is determined relationally, not satisfactionally: so a file is not to be equated to the body of (mis)information it contains.
Files are like singular terms in the language of thought, with a nondescriptivist semantics. In contrast to other philosophers, Recanati offers an indexical model according to which files are typed by their function, which is to store information derived through certain types of relation to objects in the environment.
The type of the file corresponds to the type of contextual relation it exploits.
Even detached files or 'encyclopedia entries' are based on epistemically rewarding relations to their referent, on Recanati's account. Among the topics discussed in this wide-ranging book are: acquaintance relations and singular thought; cognitive significance; the vehicle/content distinction; the nature of indexical concepts; co-reference de jure and judgments of identity; cognitive dynamics; recognitional and perceptual concepts; confused thought and the transparency requirement on modes of presentation; descriptive names and 'acquaintanceless' singular thought; the communication of indexical thoughts;two-dimensional defences of Descriptivism; the Generality Constraint; attitude ascriptions and the 'vicarious' use of mental files; first-person thinking; token-reflexivity in language and thought.
Information
Format: Paperback / softback
Pages: 296 pages
Publisher: Oxford University Press
Publication Date: 13/12/2012
Category: linguistics
ISBN: 9780199659999
Other Formats
Paperback / softback from £15.89
Hardback from £35.49
PDF from £19.96
EPUB from £31.82
Free Home Delivery
on all orders
Pick up orders
from local bookshops