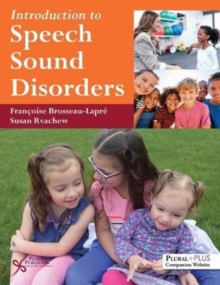 Introduction to Speech Sound Disorders
Paperback / softback
Description
''Introduction to Speech Sound Disorders'' is a comprehensive textbook for undergraduate speech sound disorders courses in communication sciences and disorders programs.
The text covers the major concepts and constructs currently framing the study of speech sound disorders in children, including typical and atypical phonological acquisition and clinical skills regarding assessment and intervention.
The text is designed to prepare students for graduate level study of speech sound disorders and early supervised clinical practice with children.
The text and associated website are intended to support new and experienced instructors as they strive to facilitate novice-level clinical competencies in their speech-language pathology students. Key Features:*Detailed organization that provides foundational knowledge and then leads the student through the logical sequence of clinical activities. *Coherent organization that ensures that all new terms are defined and the student's understanding is enriched by repeated application in new contexts throughout. *Clear terms and explanations that reflect current research evidence in speech sound disorders. *Detailed examples, illustrations, tables and figures throughout to increase comprehension for undergraduate students. *Each chapter begins with learning objectives and ends with study questions. *Practice activities are included throughout to encourage interactive learning. *Key Point boxes encourage review of important content at the end of each section. *A PluralPlus companion website contains PowerPoint lecture slides, example course syllabi, and quizzes and exercises for students. ''Introduction to Speech Sound Disorders'' begins with basic concepts in phonetics and phonology, covers normal phonological development, and then details assessment, interpretation and diagnosis, treatment planning, and finally the selection and implementation of an appropriate intervention.
It ends with a description of input, output, and phonological treatment procedures.
The text is evidence-based, and includes the most current research on speech sound disorders.
Free Home Delivery
on all orders
Pick up orders
from local bookshops
Also by Francoise Brosseau-Lapre