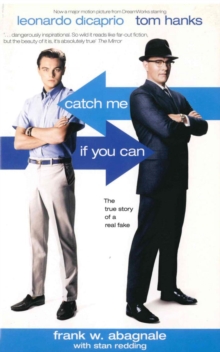 Catch Me If You Can : The True Story Of A Real Fake
Paperback
Description
I stole every nickel and blew it on fine threads, luxurious lodgings, fantastic foxes and other sensual goodies.
I partied in every capital in Europe and basked on all the world's most famous beaches'.
Frank W Abagnale, alias Frank Williams, Robert Conrad, Frank Adams and Ringo Monjo, was one of the most daring con men, forgers, imposters and escape artists in history.
In his brief but notorious career, Abagnale donned a pilot's uniform and co-piloted a Pan Am jet, masqueraded as a member of hospital management, practised law without a licence, passed himself off as a college sociology professor, and cashed over $2.5 million in forged checks all before he was twenty-one.
Known by the police of twenty-six foreign countries and all fifty states as 'The Skywayman', Abagnale lived a sumptuous life on the run - until the law caught up with him.
Now recognised as the nation's leading authority on financial foul play, Abagnale is a charming rogue whose hilarious, stranger-than-fiction international escapades and ingenious escapes - including one from an aeroplane - make CATCH ME IF YOU CAN an irresistable tale of deceit.
Information
Format: Paperback
Pages: 224 pages
Publisher: Mainstream Publishing
Publication Date: 01/01/2003
Category: Autobiography: general
ISBN: 9781840187168
Free Home Delivery
on all orders
Pick up orders
from local bookshops
Reviews
Showing 1 - 5 of 10 reviews.
Previous | Next
Review by mrtall
16/06/2015
Almost unbelievably, the true story of con man extraordinaire Frank Abegnale is even more outlandish than depicted in the stylish film of the same name.Abegnale's self-narrated tale is, if anything, too short. More detail on some of his outrageous capers would have been appreciated.
Review by jaimelesmaths
16/06/2015
Having greatly enjoyed the movie of the same name, I thought it would be interesting to read this autobiographical memoir of Frank Abagnale's years on the run from the law. However, while truth is sometimes stranger than fiction, the fictionalized account that Leonardo DiCaprio and Tom Hanks brought to life in the film adaptation was much more entertaining and intriguing, and certainly more deserving of the title Catch Me If You Can.If you've seen the movie, you'll recognize the main plot. Frank runs away from home at the tender age of 16 after his parents divorce and poses as a Pan Am pilot to earn free flights and, more importantly, make his fraudulent checks seem more believable. Additionally, the book delves more deeply into Frank's so called "addiction" to the ladies, often stewardesses. He does settle down at times, posing as a doctor, a lawyer, and a sociology professor, all through the use of faked credentials. It is interesting to see exactly how he accomplished all this (and there were a few close calls), though he does repeat himself at times.Unfortunately, what's missing from the book is the best part of the movie, namely, the other side. The FBI is mentioned regularly, but we don't get to see what they're doing to try to catch Frank. There are no Christmas phone calls or, really, any major interactions between FBI agent O'Reilly and young Frank until the afterward. While there is still some excitement in the chase (yes, he really did escape custody through an airplane toilet), it mostly comes from close calls and self-imposed ethical conflicts on Frank's part.The book was originally published in 1980, and, obviously, airport security is much more stringent now. Additionally, the fear of identity theft has become more mainstream in the last decade. In an "interview with the author" after the epilogue, some of these points are addressed, but the big picture is left incomplete. I am unsure if security issues prohibited Mr. Abagnale from delving into more detail in terms of check security measures he helped create, or if it was merely a case of him creating them after the original publication. Either way, the book still stands without it, but it would be much more powerful and relevant with it.In my opinion, while not an awful book by any means, I suggest that you save your money and just rent the movie instead. Keep in mind that it's only about 80% true, but that other 20% really ties the plot together and provides at least 50% of the entertainment.
Review by tetchechury
16/06/2015
Hands down the greatest story I have ever read. While the book isn't very long, I finished it up the day I started it. I just couldn't put it down. The book was turned it a movie, which isn't even half as good as the book. A must read for anyone. A true classic.
Review by philip2021
16/06/2015
I read this before the movie was even in production (i.e. I didn't know it was being made into a movie). I thought the book was better.
Review by jaygheiser
16/06/2015
Very entertaining and interesting read.
Also by Frank Abagnale