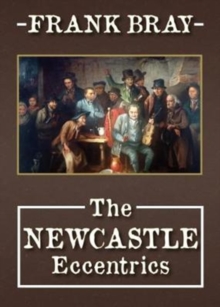 The Newcastle Eccentrics : A Dark Tale of a Georgian Town
Paperback
Description
Would-be medical man, James Maclachlan, is learning his trade by following his father around the disease-ridden slums of Georgian Newcastle.
Tragically his hopes for the future are ripped apart when both his parents sicken and die. With no alternative but to work as a chimney boy, James soon encounters the mysterious and forbidden world of body-snatchers and grave-robbers who supply Dr Stickler at the Barber Surgeons' Hall with fresh corpses. James' luck turns when he gets the chance to become a surgeon's apprentice, but he is surrounded by quacks and the frightening Dr Stickler whose sole ambition is raising the dead. 19th century Newcastle is a corrupt and violent place; the Keelmen are at war with the town's officials and a flatulent MP will stop at nothing to prevent them earning more from his pocket. Will James find his true love? Will the Keelmen get their rise? Will Dr Stickler find the felonious particle? And just who are The Newcastle Eccentrics?Inspired by Dickens, Frank Bray transports you right into the centre of the action of 19th century Newcastle.
He brings to life real historical characters, especially those who feature in Henry Perlee Parker's painting, The Newcastle Eccentrics.
Many of the places featured in the book - the Quayside, the Town Moor, the Keelmen's Hospital, the Guildhall and High Bridge - are still around, although they all look very different today.
Information
Format: Paperback
Pages: 402 pages
Publisher: Newcastle Libraries & Information Service
Publication Date: 24/10/2017
Category: Classic fiction (pre c 1945)
ISBN: 9780951048801
Free Home Delivery
on all orders
Pick up orders
from local bookshops