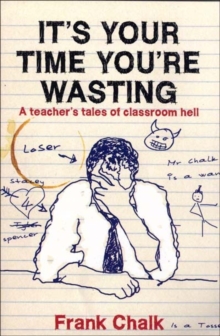 It's Your Time You're Wasting : A Teacher's Tales of Classroom Hell
Paperback
Information
Format: Paperback
Pages: 226 pages
Publisher: Monday Books
Publication Date: 09/02/2006
Category: Autobiography: general
ISBN: 9780955285400
Free Home Delivery
on all orders
Pick up orders
from local bookshops
Reviews
Showing 1 - 2 of 2 reviews.
Review by eleanor_eader
16/06/2015
A series of complaints from a supply teacher. Frank Chalk's derisory notations about the children over whom he supervises 'crowd control' are depressing, cynical and obviously based on years of real observation. The truth in his narrative is somewhat hampered by the fact that the narrative barely exists. I didn't really expect anything to rival 'To Sir, With Love', but this book is nothing more than a collection of gripes, opinions and (sadly, few) anecdotes that you could hear in the staff room of any low-achieving comprehensive school. Frank Chalk does, however, get an important message across - the education system is failing the children who need it most desperately to succeed. One cannot, sadly, even credit him with voicing it with much vigour. His writing is of the same lack-lustre standard as his teaching practices seem to have devolved to. The reader can't blame him for the damage done to these children during their school years, nor can we say he didn't warn us. Sadly, it <i>was</i> our time we were wasting.
Review by SmithSJ01
16/06/2015
I've just spent the last few days reading Frank Chalk's insight into modern education. As a teacher most of it rang true from places of work I've been in but obviously every school is slightly different so when reading it yourself if you aren't a teacher do remember this! It really is a tale of classroom hell and sadly the children do behave in the way Frank Chalk describes. I'm lucky in that I work in a place described my Chalk at the end of his novel (although I haven't always). Neatly structured by term, the book is an absorbing read. He does get on his political soapbox now and again but who can blame him! Educators try hard to turn out rounded individuals but more often than not we're turning out kids exactly like the ones at the school he describes, which he calls St Jude's. The front cover is acurate for every teacher for most of their life sadly - taunted and sworn at we come in for a quite a battering most days! By all means we don't necessarily have the worst job in the world - he does point out the positives: that fabulous game of rounders in the sun, the things that kids do/say that really give you a chuckle, the holidays and fun lessons. He also then eqaully illustrates the areas where our job can be difficult and challenging, often outside of our area of control. I'd recommend this book to everyone, even if you haven't got kids; simply because you need to know what SOME (and it's not ALL) of the young people you'll be working alongside in the future will be like.
Also by Frank Chalk