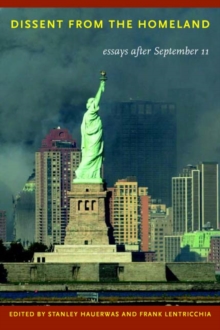 Dissent from the Homeland : Essays after September 11
Hardback
Description
Dissent from the Homeland is a book about patriotism, justice, revenge, American history and symbology, art and terror, and pacifism.
In this deliberately and urgently provocative collection, noted writers, philosophers, literary critics, and theologians speak out against the war on terrorism and the government of George W.
Bush as a response to the events of September 11, 2001.
Critiquing government policy, citizen apathy, and societal justifications following the attacks, these writers present a wide range of opinions on such issues as contemporary American foreign policy and displays of patriotism in the wake of the disaster.Whether illuminating the narratives that have been used to legitimate the war on terror, reflecting on the power of American consumer culture to transform the attack sites into patriotic tourist attractions, or insisting that to be a Christian is to be a pacifist, these essays refuse easy answers.
They consider why the Middle East harbors a deep-seated hatred for the United States.
They argue that the U.S. drive to win the cold war made the nation more like its enemies, leading the government to support ruthless anti-Communist tyrants such as Mobutu, Suharto, and Pinochet.
They urge Americans away from the pitfall of national self-righteousness toward an active peaceableness-an alert, informed, practiced state of being-deeply contrary to both passivity and war.
Above all, the essays assembled in Dissent from the Homeland are a powerful entreaty for thought, analysis, and understanding. Originally published as a special issue of the journal South Atlantic Quarterly, Dissent from the Homeland has been expanded to include new essays as well as a new introduction and postscript.
Contributors. Srinivas Aravamudan, Michael J. Baxter, Jean Baudrillard, Robert N. Bellah, Daniel Berrigan, Wendell Berry, Vincent J. Cornell, David James Duncan, Stanley Hauerwas, Fredric Jameson, Frank Lentricchia, Catherine Lutz, Jody McAuliffe, John Milbank, Peter Ochs, Donald E.
Pease, Anne R. Slifkin, Rowan Williams, Susan Willis, Slavoj Zizek
Information
Format: Hardback
Pages: 240 pages, pending
Publisher: Duke University Press
Publication Date: 08/08/2003
Category: Central government policies
ISBN: 9780822332312
Free Home Delivery
on all orders
Pick up orders
from local bookshops