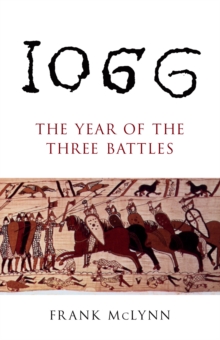 Description
Everyone knows what William the Conqueror won the Battle of Hastings in 1066, but in recent years is has become customary to assume that the victory was virtually inevitable, given the alleged superiority of Norman military technology.
In this new study, underpinned by biographical sketches of the great warriors who fought for the crown of England in 1066, Frank McLynn shows that this view is mistaken.
The battle on Senlac Hill on 14 October was a desperately close-run thing, which Harold lost only because of an incredible run of bad fortune and some treachery from the Saxon elite in England.
Both William and Harold were fine generals, but Harold was the more inspirational of the two.
Making use of all the latest scholarship, McLynn shows that most of our 'knowledge' of 1066 rests on myths or illusions: Harold did not fight at Hastings with the same army with which he had been victorious at Stamford Bridge three weeks earlier; the Battle of Senlac was not won by Norman archery; Harold did not die with an arrow in the eye.
In overturning these myths, McLynn shows that the truth is even more astonishing than the legend. An original feature of the book is the space devoted to the career and achievements of Harald Hardrada, who usually appears in such narratives as the shadowy 'third man'.
McLynn shows that he was probably the greatest warrior of the three and that he, in turn, lost a battle through unforeseen circumstances.
Information
Format: Paperback
Pages: 336 pages
Publisher: Vintage Publishing
Publication Date: 02/09/1999
Category: British & Irish history
ISBN: 9780712666725
Free Home Delivery
on all orders
Pick up orders
from local bookshops
Reviews
Showing 1 - 2 of 2 reviews.
Review by sergerca
16/06/2015
If you can get through the first 190 pages (of 230) it's somewhat interesting. No joke. This is a slog. McLynn's writing is straightforward enough, but the book suffers mightily from a lack of maps and family trees. There are dozens of different characters, all interelated, with tough-to-pronounce names. Often I forgot about whom I was reading. And for a book subtitled "The Year of Three Battles" there is very little detail about the battles themselves. Instead, the book focuses on all the wheeling and dealing that caused the four main characters to confront one another in 1066. Hardly a beginners look at the Norman conquest. McLynn seems to have some very compelling new arguments, but unless you're very familiar with this part of history already avoid this book.
Review by k8_not_kate
16/06/2015
It's been a long time since I've been this thrilled by a history. McLynn provides the perfect combination of readability and real in-depth historical analysis: <i>1066</i> is a bit more comprehensive than a popular history book but is not so dryly scholarly that it's boring. Other reviewers mentioned that the book is at times difficult to get through, but that was not my experience at all. McLynn's treatment of the Battle of Stamford Bridge and The Battle of Hastings were so engaging I couldn't put it down! McLynn's other works are now high on my to-read list.As another reviewer mentioned, family trees and maps would have been nice. On the other hand, it's not hard to find the information online and print yourself cheat sheets to keep in the book. I highly recommended <i>1066</i> if you are interested in the political goings on that led to the end of Anglo-Saxon England and Norman Conquest.