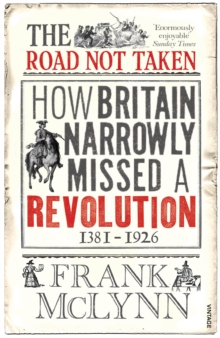 The Road Not Taken : How Britain Narrowly Missed a Revolution, 1381-1926
Paperback
Description
Britain has not been successfully invaded since 1066; nor, in nearly 1,000 years has it known a true revolution - one that brings radical, systemic and enduring change.
The contrast with Britain's European neighbours, France, Germany, Italy, Spain, Greece, Russia, is dramatic - all have been convulsed by external warfare, revolution and civil war and experienced fundamental change to their ruling elites or social and economic structures. Frank McLynn takes seven occasions when Britain came closest to revolution: the Peasants' Revolt of 1381; the Jack Cade rebellion of 1450; the Pilgrimage of Grace in 1536; the English Civil Wars of the 1640s; the Jacobite Rising of 1745-6; the Chartist Movement of 1838-48; and the General Strike of 1926.
Why, at these dramatic turning points, did history finally fail to turn?
McLynn examines Britain's history and themes of social, religious and political change to explain why social turbulence stopped short of revolution on so many occasions.
Information
Format: Paperback
Pages: 640 pages
Publisher: Vintage Publishing
Publication Date: 04/07/2013
Category: British & Irish history
ISBN: 9781844135240
Free Home Delivery
on all orders
Pick up orders
from local bookshops