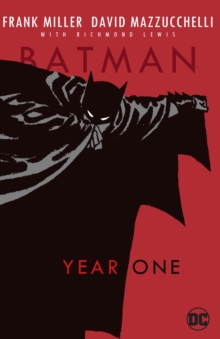 Batman Year One Deluxe SC
Paperback
Description
Written by Frank Miller Art and cover by David Mazucchelli A new softcover edition of one of the most important and critically acclaimed Batman adventures eve! In addition to telling the entire dramatic story of Batman's first year fighting crime, this collection includes loads of reproductions of original pencils, script pages, promotional art, unseen Mazzucchelli Batman art and more!
Information
Format: Paperback
Pages: 144 pages
Publisher: DC Comics
Publication Date: 07/02/2007
Category: Superheroes
ISBN: 9781401207526
Free Home Delivery
on all orders
Pick up orders
from local bookshops
Reviews
Showing 1 - 5 of 23 reviews.
Previous | Next
Review by comfypants
16/06/2015
When I started it, I just wanted to keep reading until the end. It's not even a particularly amazing book -- it's very good, but not as good as other Frank Miller I've read -- I just really enjoy reading super hero comic books, and this gets everything right.
Review by HokieGeek
16/06/2015
I never knew superheros could be so interesting and deep! I am now a Batman fanatic thanks to Frank Miller and this book. This book also opened up a world of tights for me which I had previously looked down upon. The story is rich and realistic and I couldn't get enough of it!
Review by atia
16/06/2015
While I love the ideas behind this one, and the artwork was good, I'm not much of a Frank Miller fan. I love the desperation and the darkness and the unfairness of the world that shines through here, and altogether I liked this one much better than The Dark Knight Returns, but there was something missing. At least Batman himself was more likeable here than in The Dark Knight Returns.
Review by Yakatizma
16/06/2015
This is the book that I recommend first to new Batman readers.Frank Miller's retelling of Batman's origin broke the character free from the campy image and tone that had been established during the 60's and 70's. The Batman, James Gordon, and Harvey Dent that we meet in Year One are deep and psychologically plausible characters entangled in believable situations and conflicts.Mazzucchelli's artwork is a perfect fit for Miller's script, portraying a Gotham City coated in industrial grime, and blanketed in deep shadows. The characters themselves are often composed of starkly contrasting areas of light and dark that imply they dwell primarily in the shadows and enter into the light. All in all, this is a remarkable volume.
Review by AnnieMod
16/06/2015
Meet Bruce Wayne - a rich man with a dark secret and James Gordon - a troubled cop that tries to always do the correct thing in a world where the truth and justice are forgotten. Miller's Batman origin story is dark but it does show a Batman in the making - all the mistakes of the new but at the same time all the principles of Batman that had been seen through the years. And shifting the reason for him being Batman from the revenge is a good thing - yes - his parents are there and their death had happened but it is not the only reason for what he becomes... even if it is still a motivator. The story is following the lives of the two men that will become friends - Gordon and Batman (with a few cameos of Harry Dent) but it's not as easy as someone would expect. And from both stories, I was more interested in Gordon's - his reasons for the things he was doing, his personal tragedy and his attempts to fit in a new place... and to change it. Batman's story served more as a background and this is what made this graphic novel exceptional - not making Batman the main character but making him the main reason for everything. The only parts that just did not work for me were probably when Gordon suspected that Bruce was Batman and Bruce's handling of all the questions and the situation as a whole. It sounded like something out of a children's comics... which is not always bad but just did not work here. But the book is a great introduction to Batman, James Gordon and the mess called Gotham City.