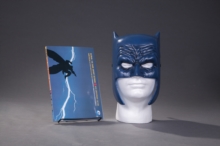 Dark Knight Returns Book & Mask Set
Paperback
Description
One of the greatest graphic novels of all-time, THE DARK KNIGHT RETURNS, isnow available in this beautifully packaged set complete with a replica Batmanmask, done in the style of Frank Miller!Together with inker Klaus Jansonand colorist Lynn Varley, writer/artist Frank Miller completely reinvents thelegend of Batman in his saga of a near-future Gotham City gone to rot, ten yearsafter the Dark Knight's retirement.
This masterpiece of modern comicsstorytelling, BATMAN: THE DARK KNIGHT RETURNS, brings to vivid life a dark worldand an even darker man. The Dark Knight retuns in a blaze of fury, taking on awhole new generation of criminals and matching their level of violence.
He issoon joined by a new Robin--a girl named Carrie Kelley, who proves to be just asinvaluable as her predecessors.
But can Batman and Robin deal with the threatposed by their deadliest enemies, after years of incarceration have made theminto perfect psychopaths? And more important, can anyone survive the comingfallout from an undeclared war between the superpowers -- or the clash of whatwere once the world's greatest heroes?
Celebrate thirty years of one of the mostinfluential stories ever told in the comics medium with the undisputed classicBATMAN: THE DARK KNIGHT RETURNS 30TH ANNIVERSARY EDITION, now packaged with areplica mask done in the style of the legendary FrankMiller."Price IncludesVAT"
Information
Format: Paperback
Pages: 224 pages
Publisher: DC Comics
Publication Date: 11/10/2016
Category: Superheroes
ISBN: 9781401267742
Free Home Delivery
on all orders
Pick up orders
from local bookshops