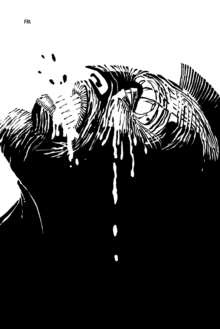 Frank Miller's Sin City Volume 1: The Hard Goodbye 3rd Edition
Paperback
Information
Format: Paperback
Pages: 208 pages, 1 Illustrations, unspecified
Publisher: Dark Horse Comics,U.S.
Publication Date: 09/02/2005
Category: Comics and Graphic Novels
ISBN: 9781593072933
Free Home Delivery
on all orders
Pick up orders
from local bookshops
Reviews
Showing 1 - 5 of 11 reviews.
Previous | Next
Review by rtylerragan
16/06/2015
It is hard to really justify spending $17 on a graphic novel that will only take a good hour to read. If it can be done, Sin City does it.
Review by Radaghast
16/06/2015
Violent, graphic and ultimately entertaining. Sit back and enjoy, if you need a session of mindless action.
Review by sweetiegherkin
16/06/2015
I'm not sure what it was – too high expectations perhaps – but I was not thrilled with this particular book. The protagonist was not someone I could root for, and his motivation for revenge was weak. I liked Miller's gritty, no-nonsense dialogue and narration, but I wasn't blown away by the illustrations. The black and white images work well with the noir theme, but they also make it sometimes difficult to follow the action. Nevertheless, watching the mystery aspect unfold kept me reading almost nonstop, and I will move on to the next book in the series.
Review by danconsiglio
16/06/2015
Reading overly violent comics helps me to remember that I am a grown-up now and I'm allowed to read stuff like this.
Review by Tanya-dogearedcopy
16/06/2015
Sin City: The Hard Goodbye by Frank MillerThird Edition Published in 2010 by Dark Horse Comics(Vol. 1): "This volume collects stories originally published in issues fifty-one through sixty-two of the Dark Horse Comic Book series Dark Horse Presents and in the Dark Horse Presents Fifth Anniversary Special, originally edited by Randy Stradley."WHO: Marv, a big ugly brute…WHAT: wakes up in the morning after a night with Goldie, a beautiful woman who, unfortunately is now dead…WHERE: in a seedy motel room in Basin City ("Sin City",) an underground venue populated with prostitutes, corrupt cops, thugs, addicts and drunks. WHEN: The time is now or in the very near future as…WHY: Marv goes out and tries to figure what exactly has happened and who is responsible.HOW: Relying on his animal nature, Marv seeks vigilante justice.+ The black ink panels are amazing in rendering light/shadow, texture, emotion and movement with both fines lines and blocks of black/white. The overall selection of "shots" to tell the story gives the reader a sense of the spaces and the subjects' position within each scene.+ The women in the story wield their sex like a weapon. Though Frank Miller draws the women in a highly sexualized way and they are often the victims in the story, these are not women without intelligence or resources.+ The story probably doesn't end the way you think it would/should; but it's true to the world which Frank Miller has created.- Marv and/or Miller twice expresses a rather provocative, gratuitous sentiment (two different issues) wherein he doesn't understand that there's no correlation between a person's looks and their sexual orientation :-/"She's a dyke but God knows why. // With that body of hers she could have any man she wants"In Miller's world of alleyways and strippers and such, for some reason this is the one thing that jumped out at me as "wrong"; and while not a deal-breaker for me in terms of continuing the story/series, it might be for others.OTHER: I purchased a print copy of Sin City: The Hard Goodbye (Vol. 1) (by Frank Miller.) I apologize, but I do not remember who I purchased it from! I receive no monies, goods or services in exchange for reviewing the product and/or mentioning any of the persons or companies that are or may be implied in this post.