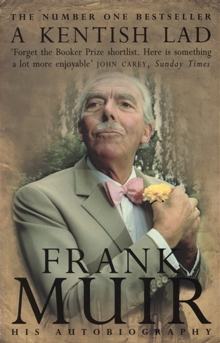 Kentish Lad, A
Paperback / softback
Description
For more than twenty-five years Frank Muir, in partnership with Denis Norden, produced some of the most sparkling and original comedy ever written for radio and television.
On programmes such as My Word! and My Music his distinctive voice became familiar to millions as he displayed an astonishingly well-stocked mind and a genius for ad libbing and outrageous puns.
Later, working at the BBC and then at London Weekend Television, he produced some of the best television comedy of the 1960s and 70s.
He has written highly successful books for children, and two bestselling anthologies of humour. Frank Muir recalls, in glorious detail, a happy 1920s childhood in the seaside town of Ramsgate, where he was born in his grandmother's pub in Broadstairs, and in London, where he attended an inexpensive but excellent school of a kind no longer to be found.
He remembers his very first joke at the age of six, when he knew that his destiny was to make people laugh.
He also knew from an early age that he wanted to write, but it took a childhood illness for him to discover that humour and writing could be combined.
The death of his father forced him to leave school at the age of fourteen and work in a factory making carbon paper.
Then, at the outbreak of the Second World War, he joined the RAF as an air photographer and his memories of the war years, as might be imagined, are engagingly different from the usual kind.
It was during those years, with their rich fund of comic material, that he began his career as scriptwriter and performer.
At his demob in 1945 he moved naturally to London and the Windmill Theatre, that remarkable breeding ground of talent where new comedians like Jimmy Edwards and Alfred Marks vied with nude girls for the attention of the audience.
In story after story he recalls the lost world of London in the 1940s and early 50s, when the laughter and creative ideas seemed to explode out of post-war shabbiness and austerity.
Then came the BBC, the legendary partnership with Denis Norden, and half a century of fulfilling the boyhood ambition of that Kentish lad. 'All I ever wanted to do was to write and amuse people.'
Information
Format: Paperback / softback
Pages: 432 pages
Publisher: Transworld Publishers Ltd
Publication Date: 31/08/2011
Category: Individual actors & performers
ISBN: 9780552165990
Free Home Delivery
on all orders
Pick up orders
from local bookshops