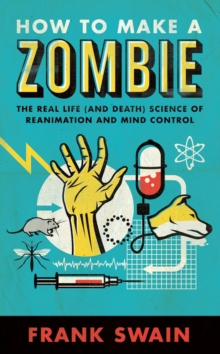 How to Make a Zombie : The Real Life (and Death) Science of Reanimation and Mind Control
Paperback
Description
Join a notorious pop science punk as he investigates real zombie reports from around the world.
It's terrifying! The search for the means to control the bodies and minds of our fellow humans has been underway for millennia, from the sleep-inducing honeycombs that felled Pompey's army to the Voodoo potions of Haiti.
Now, Frank Swain, the force behind Science Punk, has joined the quest, digging up genuine zombie research: * dog heads brought back to life without their bodies * secret agents dosing targets with zombie drugs * parasites that push their hosts to suicide or sex changes * the elixir of life hidden in an eighteenth-century painting This mind-bending and entertaining excavation of incredible science is unlike anything you've read before.
Information
Format: Paperback
Pages: 272 pages, black & white illustrations
Publisher: Oneworld Publications
Publication Date: 06/06/2013
Category: Popular science
ISBN: 9781851689446
Free Home Delivery
on all orders
Pick up orders
from local bookshops
Reviews
Showing 1 - 1 of 1 reviews.
Review by shanaqui
16/06/2015
Interesting and even quite well written -- which is to say, engaging -- but wanders far from the original point. The earlier chapters are much more closely linked to the title: later chapters deviate into issues which are sort of related but not quite, like resuscitation and then on to organs grown in vats. It's certainly all about our attempts to control the human body, and the weird line -- practically and ethically -- between life and death, but it's a little odd to stick that all under the umbrella of talking about zombies. It's almost a cheat to get people interested in zombie movies interested in real ethical dilemmas. Whether it'd work, I don't know -- I enjoyed it, at least.